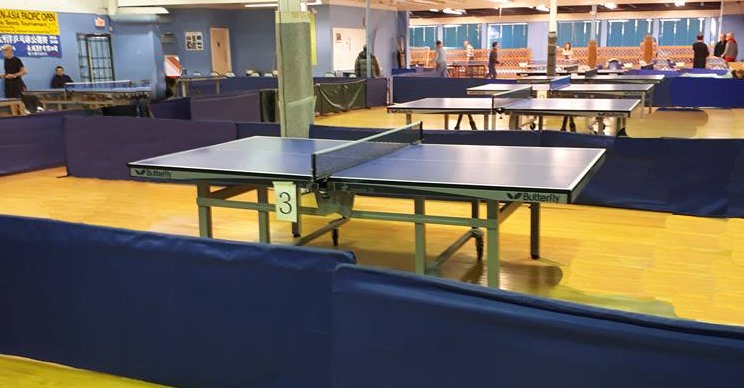 (by Steve Hopkins)
At over 14,000 square feet, the Bridgeport Sports Club one of the largest table tennis clubs in all of North America.  The club is located in Richmond, just South of Vancouver in British Columbia, Canada.  They are located near Highway 99 and 9, with easy access to the greater Vancouver area.
The club is completely supplied with Butterfly table tennis equipment and supplies with a fully stocked pro shop. The flooring is a classic maple wood gym floor.  The facility also includes great lighting, lots of room, and hygienic shower rooms.  the facility has been the host of many elite table tennis events and training opportunities.
Bridgeport Sports Club is proud to have qualified and certified coaches and to offer various training camps and courses throughout the year.  There are training camps for students, individually designed training options, multilingual coaches, and a wide variety of training options for players of all levels.
The club is open every day.  Check the website for a current list of operational hours.
*Also note the current COVID rules before visiting – As of September 13, there is a Vaccine Passport requirement at the club.
Club Location:
Bridgeport Sports Club
11660 Bridgeport Rd.
Richmond, BC V6X 1T2
Club Hours:
Every Day from approximately 10am to 4pm
Special Sessions on Tuesday and Thursday from 4p-6p.
Share the post "WAB Club Feature: Bridgeport Sports Club"