Steen Schleicher Pedersen, tidligere landstræner og nuværende tv-kommentator for BWF, det internationale badminton forbund, skriver i dag på Facebook:
"Efter en misvisende overskrift er vi nødt til at revidere om man kan stole på BT's artikler.
https://www.bt.dk/badminton/efter-historisk-vm-nedtur-vi-er-noedt-til-at-saette-os-ned-med-dem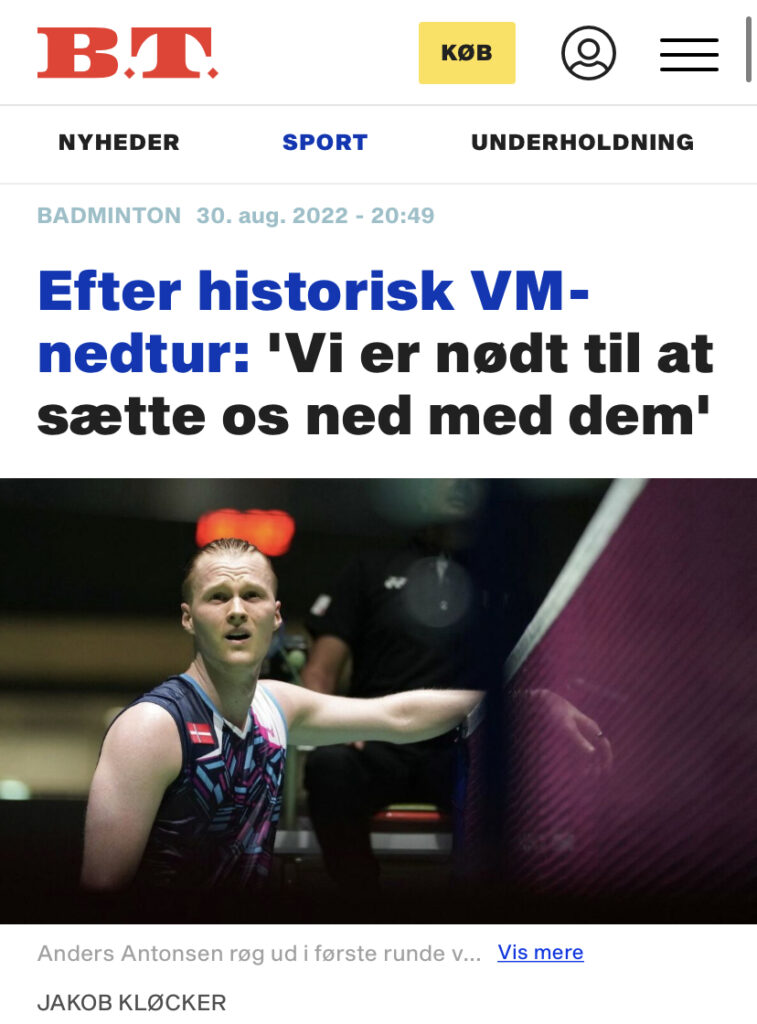 27 gange har der været afholdt VM i badminton.
Een gang vandt Danmark tre Guldmedaljer. Det var i det første VM nogensinde i 1977 i Malmø hvor vi vandt Damesingle, Herresingle og Mixdouble, i en turnering hvor Kina og Sydkorea ikke deltog (kom først med i 1983).
I de resterende 26 udgaver, har Danmark vundet en Guldmedalje🥇 8,5 gange (1983-HD; 1993-Halv-XD, 1995-XD, 1997-HS, 1999-DS, 2003-HD, 2009-XD, 2017-HS og 2022-HS)
Dvs i gennemsnit hver tredje gang.
I år har Danmark også fået en Verdensmester og en Guldmedalje, men af – for mig – uforståelige årsager vil bl.a. et bestyrelsesmedlem i Team Danmarks bestyrelse ikke kendes ved denne medalje.
Det vil jeg godt.
Jeg er som badminton-dansker stolt over hvordan Viktor Axelsen har performet og uden at have researchet det, så tror jeg det er det mest overbevisende VM en dansker nogensinde har vundet.
Alligevel skal medaljen åbenbart ikke tælles med 😳 som en rigtig medalje, fordi Viktor Axelsen har bopæl i Dubai efter at have trænet 11 år i Brøndby.
Det sætter f.eks Caroline Wozniackis Grand Slam sejr, Rolf Sørensens OL-sølv og mange andre store danske præstationer i et noget andet lys, at man efter nogens mening skal have bopæl i Danmark for at kunne tælles med.
Hvis man derimod mener den skal tælles med (det gør jeg), så har Badminton Danmark overgået den målsætning for VM turneringen som man har aftalt med Team Danmark og som Team Danmark har godkendt.

Så er der ikke tale om en "Historisk nedtur", slet ikke.
Tværtimod en succes når målsætningen er blevet overgået. Og jeg kan altså ikke få øje på de danskere der blev "ydmyget", medmindre det er BT's journalistslang for at have tabt en kamp i to sæt.
Lars Balle Christensen fra Team Danmark er selvfølgelig godt klar over de her ting, og han svarer egentlig fint på journalistens forsøg på at få fremprovokeret en konflikt.
Journalisten kommer så med en statement om at resultaterne har manglet over en længere periode, uden nærmere at definere hvad han mener den periode er. LBC svarer så at det da ikke er så længe siden at Anders Antonsen vandt både VM-sølv og VM-Bronze, og han kunne også have tilføjet at Danmark har vundet de sidste to Sæsonfinaler i herresingle.
Det åbenlyse er at journalisten skriver så sjældent om badminton, indenfor de halvandet år hvor han har været journalist, at han er ude af stand til at analysere resultaterne ved VM (se tidligere FB-post hvis du vil se min vurdering). Og heller ikke er interesseret i det.
Jeg siger ikke, at vi skal sidde med armene oppe over hovedet for de andre spilleres vedkommende, men vi skal have et helhedsbillede som er realistisk og (forhåbentlig) agere ud fra det.
I Go'morgen Danmark på Tv2, har man besøg af Jim Laugesen og Joachim Fischer. De snakker om fødekæde osv. osv.

Og det er rigtigt at hvis man som ung kan sparre med en ældre spiller så kan det (for nogen) være hurtigere at nå et vist niveau (mens andre kan miste selvtillid), men det jo kun en del af det.
Faktum er at vi i Danmark har og har haft (..og JA, jeg synes selv jeg var en af dem) nogle superdygtige trænere, som også har formået at udvikle topspillere i kategorier hvor vi ikke nåede at holde "gryden i kog" og have topspillere som de kunne sparre imod.
Man skal bare forstå – efter min opfattelse – at det kan tage tid at udvikle spillere og at det i doublerne er blevet vanskeligere at rokere i konstellationerne pga. ranglisteafhængighed og økonomi.
Jeg tror man skal holde en vis mængde af spillere på træningen, men det skal langt fra være den samme opmærksomhed og satsning som den enkelte spiller får.
Dem som trænerne vurderer har størst muligheder for at klare sig internationalt, og som er villige til at lægge den krævede indsats i karrieren, skal have maksimalt fokus.
Og så skal vi glæde os når spillere som Axelsen, Antonsen og andre bliver i stand til at skabe deres eget setup, så de ikke ligger forbundstræningen til last, således at ressourcerne dér kan bruges på næste generation, samtidig med at vi samarbejder og støtter "udbryderne" så meget som overhovedet muligt.
Hele talentudviklingsdelen og klubdelen som Jim snakker om ofte i transmissionerne er en helt anden snak og skal efter min mening kun kædes perifert ind i de diskussioner, der er pt om resultater."
Tak til Steen Schleicher Pedersen for tilladelsen til at dele indlægget.
Badmintonbladet / Per Damkjær Juhl