En uge med badminton!
Masser af LIVE streaming fra DM på Badminton Danmarks youtube og TV2 Sport, netværksmøde mandag aften på Vesterbro om den danske holdturnering, sidste omgang skolebadminton i dette skoleår og endnu en tirsdag formiddag med børnehaver i Den Store Hal og tre gange badmintonspil for mig i denne uge!
– og så selvfølgelig den sædvanlige mængde frivilligt arbejde…..beskeder og mails, ansøgningsskemaer, indbydelser, planlægning, afslutning på skolebadminton, opdateringer af klubbens facebook, masser af snak om alt muligt…..
…..du kender det godt, hvis du er frivillig, ik?  
                       ————— ▪️ —————
Apropos skoler og børnehaver (og autister og ledige) 
Klubben har været ude på 6 skoler og fået en ketcher i hånden på ca 500-600 elever på samtlige årgange i dette skoleår i 3-4 ugers forløb og haft 5 børnehaver i vores hal i 2 og 3 måneders forløb.
På tegnebrættet til næste skoleår er både interne skoleturneringer – klasse mod klasse, og skole mod på skole for 3., 6. og 9. klasse i vores hal med præmier, vandrepokaler, masser af liv, højt musik og kampe på tid. Det står allerede ret klart i mine tanker. 
Derudover har vi nået en lille gruppe autister på STU (Særligt Tilrettelagt Uddannelse) og en gruppe arbejdsledige i deres vej tilbage på arbejdsmarkedet. 
                       ————— ▪️ —————
Mit spil
Veterankamp 
Søndag 5. februar var det veterankamp i +40 for Værløse i Havdrup mod Solrød Strand. Vi var ikke ligefrem jævnaldrende – yngste på mit hold var 42 år og min doublemakker og jeg de ældste på 57. 15 år betyder ret meget i denne del af livsbuen. Ret meget!
Træning 
Seniortræning onsdag aften i Den Store Hal med en endnu større alders- (og niveau)spredning. De yngste var 15 år og ældste, denne person, som nævnt 57 år. 
Beboerne
Torsdag over middag med beboerne og den studerende fra arbejdspladsen i Eskilstrup Hallerne.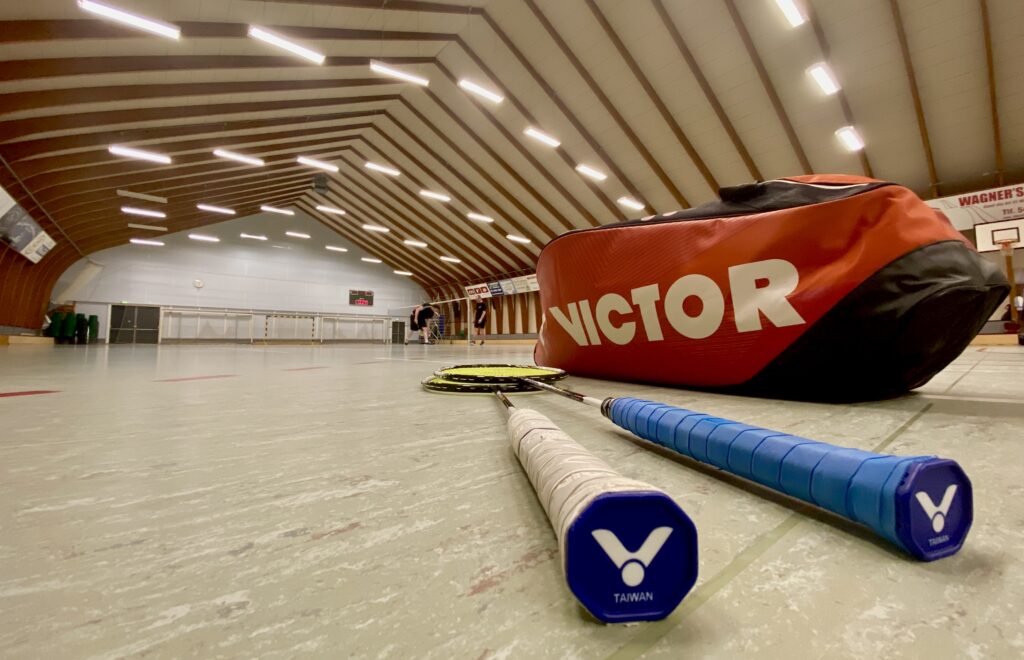 ————— ▪️ —————
3 forskellige settings. 
Den almindelige træning som den mest spændende, eller rettere interessante, set ud fra et forenings- og udviklingsperspektiv. 
Mange klubber har "unge træninger", altså træningshold med fortrinsvis unge spillere og en lav aldersspredning. 
Det har sine fordele, når aldersspredningen er lille, men bestemt også sine ulemper. 
Set ud fra en udviklingsperspektiv tilfører ældre spillere træningen en stor portion erfaring, og dermed en ekstra gevinst i form af taktisk forståelse og en "nuancering" af spillet, således at de unges hurtige og hårde spil med masser af smash og fladt spil tilføres bløde slag – og af og til en clear. Derudover vil jeg mene, at en bred aldersspredning tilfører træningen mere dynamik og liv – og nærmer sig en af grundpillerne i foreningslivet. 
Set fra en sociologisk, samfundsmæssigt perspektiv betyder en stor aldersspredning, at vi deltager i noget fælles MED noget forskelligt. Det betyder, at vi er sammen trods forskellighederne – alder, køn, socio-økonomisk, kulturelt, uddannelse, arbejde, transportmiddel til træning(!), mindset, med eller uden børn, brug af omklædning og bad, formål, livsstadie etc. 
Forskellighederne er uendelige. Jeg kan rigtigt godt li' det med, at kønnene er sammen, hvilket ikke sker i så mange sportsgrene, og så ikke mindst aldersspredningen. 
                       ————— ▪️ —————
Træningen onsdag aften. 
Onsdag spillede jeg double med Rafn senior på  49 år mod to unge fra vores førstehold i Danmarksserien, Seb og Christian på henholdsvis 33 og 17 år. Tredje herredoublen.
De to unge var hurtigere og mere bevægelige, uden tvivl – meget tydeligt, men – vil jeg påstå, vi to gamle var klogere. Vi spillede i hvert fald lige op. 
Jeg tillod mig bagefter at sige til den yngste, at han skulle variere sit angreb, sit smash noget mere. Det var for nemt at stille sig parat til returnering. Det kom med samme fart, stejlhed og placering næsten hver gang – og så bliver det for let. Og at han ved nettet burde arbejde på ikke bare at løfte højt til baglinien ved netspil, men tage udfordringen, tage bolden højere og droppe igen eller gøre noget andet end et defensivt højt løft. 
Det er jo det, vi ældre deltagere kan tilføre træningen. 
Råd og vejledning, strategi og taktik, mønstergenkendelse og placering. Hvis de unge altså er lydhøre! Det tror jeg, denne unge mand var. Det virker dog ikke altid til at være tilfældet med de unge. 
Nu gætter jeg…..men det virker som om de tænker…"ja ja gamle mand, dit spil er sgu kedeligt!"….."Det her spil er nutiden!". Og måske tænkte jeg det samme dengang, jeg var i den alder.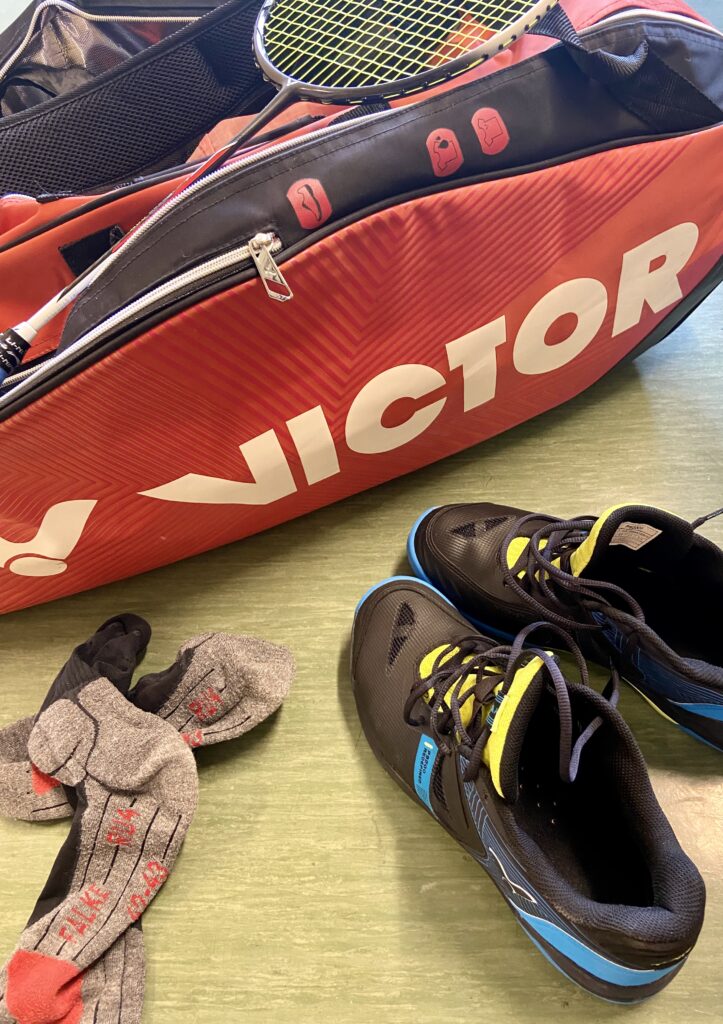 ————— ▪️ —————
En kamp i 80'erne
Jeg husker som sen teenager at spille en kamp i klubmesterskabet mod Henrik Froms far Bent. Bent var vel i 40'erne, og dengang i 80'erne en af de få veteraner, der stadig ville spille med og ikke bare havde droppet træning og lejet en bane. Den gamle mand stjal et sæt fra mig i mesterskabskampen, vi kom ud i tredje og nogle rådede mig klogt i at stoppe med at spille så aggressivt, for han stod jo bare stille og samlede mine smash op, og i stedet holde ham på baglinien og lade ham arbejde. Og herfra gik det hurtigt. 
Det kaldes taktik og spille efter modstanderen. Noget som jeg synes ungdommen godt kunne lære……af os gamle, som har spillet tusindvis af den slags kampe og derfor har et kæmpe lager af erfaring klar til at blive videreformidlet. Men det kræver lydhørhed og et reelt ønske om at lære. 
På den anden…..det er også tilladt bare at have det sjovt, lægge hovedet for stund, blive i sit foretrukne spil – i sin comfortzone. 
Det kender vi alle sammen ret godt, ik?
Men udvikling eller ej, jeg kørte glad hjem. Mør i kroppen, der i en times tid havde været længere ude i hjørnerne end længe. Natten var mærkeligt nok helt uden kramper. 
Spil og samvær på tværs af forskelligheder om noget fælles. Det kan noget!
                       ————— ▪️ —————
Badmintonbladet 🙏🏻❤️ Per Damkjær Juhl