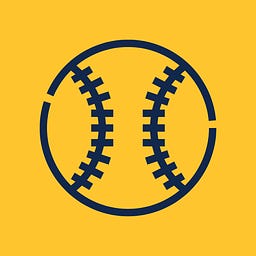 Aaron Judge has split his time between center and right fields for the New York Yankees the past couple of seasons, actually spending a slight majority of games in center.
This dexterity is a fairly recent development. Judge was firmly planted as a right fielder during the first six years of his career (2016-2021), and that's how he'll be assessed in today's positional ratings.
We've been going around the diamond on successive Thursdays, starting on April 6 with rankings of baseball's best catchers. (Follow these links for the installments on first basemen, second basemen, shortstops, third basemen, left fielders, and center fielders.) It's time to look at right fielders today.
The rules are the same every week. The ratings for a given position encompass anybody who made a minimum of 750 plate appearances over the past three seasons and spent at least half of his time at that spot on the field. (The entire record for each player is considered, even those games when he occupied another position.)
Statistics for the 2020-2022 period were assessed in 10 categories. Right fielders were ranked from best to worst, with scores of 1,000 points assigned to the positional leader and 0 points to the tailender. The score for every other player was determined by his relative placement between top and bottom. (Click here for a detailed explanation.)
Judge emerged as the clear leader among the 23 qualifying right fielders, thanks in part to his prodigious slugging ability (62 homers last year and a total of 110 in the past three seasons). He finished 184 points ahead of the runner-up, Mookie Betts of the Los Angeles Dodgers.
Rounding out the top five are Kyle Tucker of the Houston Astros, Juan Soto of the San Diego Padres, and Bryce Harper of the Philadelphia Phillies.
Look below for a rundown of the 15 right fielders who are currently ranked as the best in the game. Three-year statistical breakdowns are provided for the top five.
A new installment will arrive in your email each weekday morning
Score: 1,000 points

WAR: 17.8 total, 6.2 per 500 PA, 0.7 defensive

Averages: .296 BA, .611 SLG, 1.082 BPO

Scoring: 386 R generated, 134 per 500 PA

Totals: 333 G, 361 H

Notes: Judge's calling card, of course, is his power, specifically the 62 home runs he hit last season. But he excels in other areas of the game, also leading the American League in runs scored (133), runs batted in (131), and walks (111) in 2022. And his three-year batting average of .296 is the best for anybody in this category.
Score: 816 points

WAR: 14.2 total, 5.0 per 500 PA, 2.2 defensive

Averages: .271 BA, .521 SLG, .911 BPO

Scoring: 362 R generated, 126 per 500 PA

Totals: 319 G, 341 H

Notes: Betts proved his skill at the plate in 2018, when he won the American League's batting title with a .346 average. And he has repeatedly demonstrated his excellence in the field, earning six Gold Gloves during the past seven seasons.
Score: 809 points

WAR: 12.9 total, 4.6 per 500 PA, 1.7 defensive

Averages: .274 BA, .515 SLG, .878 BPO

Scoring: 359 R generated, 128 per 500 PA

Totals: 348 G, 345 H

Notes: Tucker was among the top 20 vote-getters for the National League's Most Valuable Player Award in each of the past two seasons. He also picked up a Gold Glove last year. His home-run totals for 2021 and 2022 were identical — 30 each season.
Score: 802 points

WAR: 15.1 total, 5.0 per 500 PA, -1.9 defensive

Averages: .286 BA, .519 SLG, 1.081 BPO

Scoring: 368 R generated, 122 per 500 PA

Totals: 351 G, 338 H

Notes: Soto was outstanding during the first two seasons of the three-year span, batting .351 in 2020 and .313 in 2021. He tailed off to .246 in 2022, which he split between Washington and San Diego. But he kept his on-base percentage at an impressive level (.401).
Score: 704 points

WAR: 10.3 total, 4.1 per 500 PA, -2.5 defensive

Averages: .294 BA, .566 SLG, 1.064 BPO

Scoring: 321 R generated, 126 per 500 PA

Totals: 298 G, 308 H

Notes: Harper won the National League's Most Valuable Player Award in 2021, the second MVP trophy of his career. He paced the league in doubles (42) and slugging average (.615) that year. Thumb and elbow injuries restricted him to 99 games in 2022.