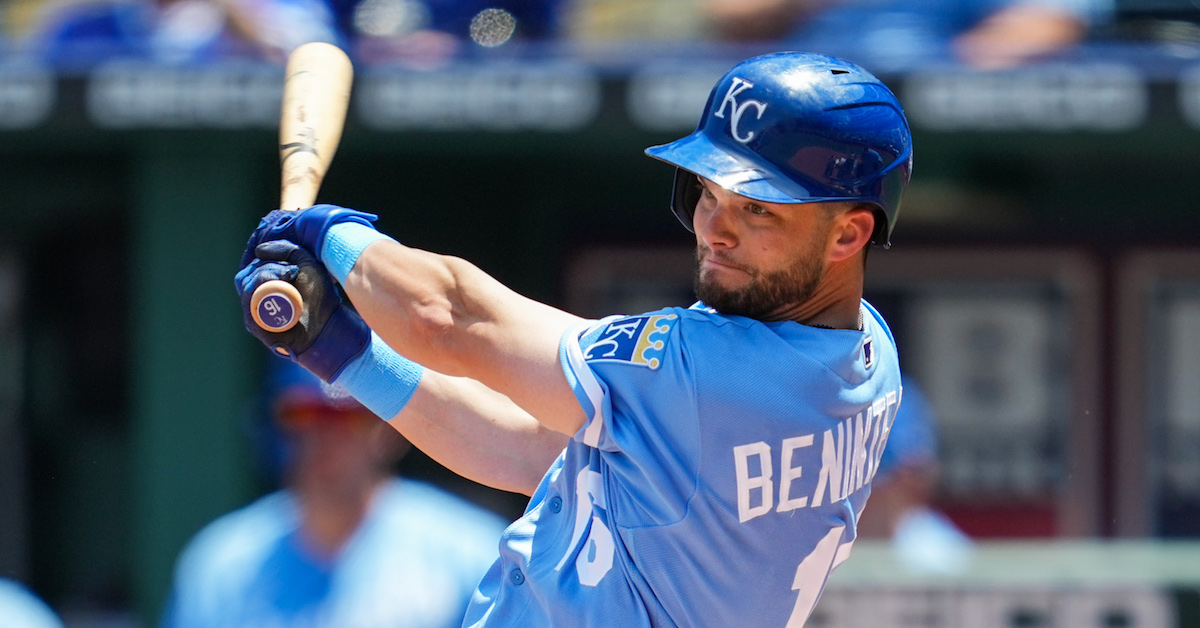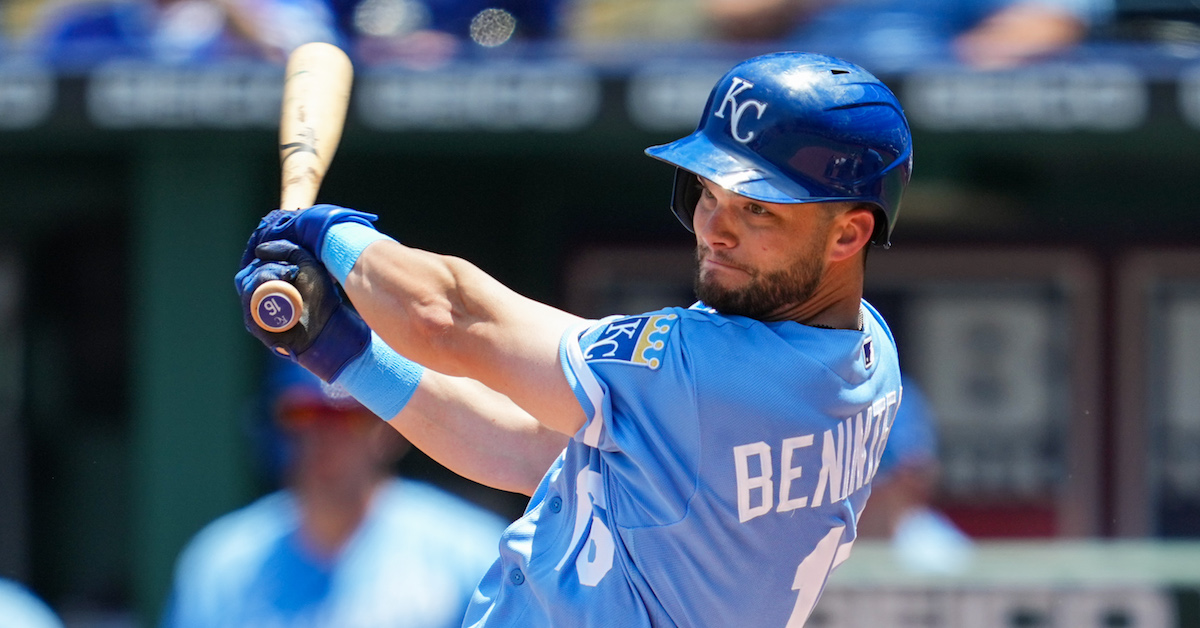 The New York Yankees added outfield help on Wednesday night, closing a deal with the Kansas City Royals to acquire outfielder Andrew Benintendi in return for three lower-level pitching prospects. Coming off his first career All-Star appearance, Benintendi is having what is easily his best season since 2018, fortunate timing for him given that he'll hit free agency for the first time this fall. In 93 games for the Royals, Benintendi has hit .320/.387/.398 for a career-best 126 wRC+, and his 2 WAR already makes 2022 his second-best full season.
It would be hard to argue that much has gone wrong for the Bronx Bombers in 2022 — even after a month of .500 ball, the Yankees remain on a 108-win pace. But I doubt anyone would claim that Joey Gallo's annus horribilis is what they had in mind when they sent four prospects to the Rangers for him and Joely Rodríguez almost exactly a year ago. Over his time in New York, Gallo has hit .160/.293/.371, good for an 89 wRC+ and 0.9 WAR. While that's a pretty robust line for a .160 average, secondary skills can only go so far. There was an argument to be made that Gallo's lousy stint at the end of 2021 was a BABIP-related blip, but this year, his approach at the plate has completely fallen apart. Always a brutally poor contact hitter, Gallo has to be selective to survive, and in what might be him reacting to his poor August/September last year, he's been aggressive at the plate in a bad way. How bad? He's been about 80% more likely to swing at an out-of-zone pitch than he was in 2021 — not a great approach when you miss as often as Gallo does. Even his exit velocity numbers have dropped off the charts. Gallo's not officially gone yet, but I'd be astonished if he's Benintendi's teammate for more than a few days.
While Gallo may be an excellent candidate for a pillow deal with some lucky team in 2023, the Yankees don't have the luxury of waiting out a redemption arc. The team's recent water-treading has whittled their 15 1/2 game lead in the American League East to 11 1/2 games. That's still a very tidy lead with two months to go, though it's not an insurmountable one. Still, with teams no longer able to make low-key waiver trades in August, the time to round out the roster for the playoffs is now.
If Gallo couldn't give the Yankees a dependable bat they could just stick in a corner outfield spot every day, maybe they'll have better luck with Benintendi, whose success comes in very different packaging than Gallo's. Whereas Gallo fits the baseball trope of the big, strong masher who excels through brute force, Benintendi is a much smaller player, a spray hitter who hits line drives and will get on base at a good clip when things are going right. The shift holds no terrors for him; he's a .351 hitter against the shift in 2022, .335 for his career. ZiPS expects Benintendi to roughly maintain this level of performance, with the full version of ZiPS (rather than the simpler in-season model) projecting a .291/.356/.433 line, good for a wRC+ of 124 as a Yankee. That's close to his season line, but with a little less on-base and a little more power.
Benintendi had been been connected to the Yankees for more than a month, but when he was one of the 10 Royals added to the restricted list before the team's series in Toronto for failing to get a COVID-19 vaccination, those rumors began to soften. The New York Post's Jon Heyman reported that the Blue Jays were in on Benintendi as well, suggesting that he is perhaps now willing to get vaccinated, though Ken Rosenthal and Jayson Stark of The Athletic reported that when it came to the Yankees, his vaccination status "was never discussed":
Benintendi's vaccination status was never discussed, sources tell me and @Jaysonst. Yankees either not worried about one remaining series they have in Toronto, or received some indication Benintendi might get vaccine. TOR also was in mix for Benintendi, as were MIL and LAD.

— Ken Rosenthal (@Ken_Rosenthal) July 28, 2022
It's worth considering how the Yankees might be thinking about Benintendi's availability (or potential lack thereof) going forward. Even if it turns out he can't play in Canada, New York only plays three more games there during the regular season, games that seem unlikely to determine the division. There's certainly an increased risk of him being unavailable for playoff games in Toronto (not to mention the weightier risks COVID itself poses), but New York likely views the potential down-side scenarios as manageable. Assuming they make the playoffs, the Blue Jays would have to survive their first three-game Wild Card series, which is just a little better than a coin flip, then either face off against the Yankees or have both the Blue Jays and the Yankees survive the Division round to meet in an ALCS matchup.
Without knowing who the starting pitchers would be, ZiPS gives the Jays a 50.8% to 49.2% edge in home games against the Yankees with Benintendi in the lineup. Reshuffling the defense to reflect a missing Benintendi (and assuming no Gallo) would generally mean they either go with an Aaron Hicks/Aaron Judge/Giancarlo Stanton outfield with Josh Donaldson or Gleyber Torres as the DH, or a Tim Locastro spot start with Hicks and Judge in the corners. Both options change the projections by less than three percentage points. Now, should there be an injury that thins the Yankees' outfield depth for this theoretical series, not having Benintendi would be a much bigger loss. But the Yankees likely view the benefit of getting the best short-term outfield option available — from a baseball standpoint, I'd rather have a Benintendi who is only available for stateside games than a David Peralta, Stephen Piscotty, or Robbie Grossman who can play in all of them — as still being worth potential absences in Toronto.
Of course, Benintendi could (and should!) simply get vaccinated and render all of this moot anyway!
That brings us to Kansas City's side of the deal. Stepping back, Benintendi's time with the team has worked out quite well for the Royals. They gave up Khalil Lee, Grant Gambrell, and Luis De La Rosa to acquire him; Lee and Gambrell had Future Values of 45 and 40 respectively at the time, while De La Rosa wasn't a ranked prospect. While the Royals were never contenders during his tenure, they got two years of Benintendi that could have helped them if they had been, as well as some additional cash from the Red Sox. Now in return for Benintendi, they'll add Beck Way (40), T.J. Sikkema (40+), and Chandler Champlain (40). Those players aren't considered top prospects by any stretch, but they all have some path to a future role in Kansas City.
ZiPS doesn't have a lot to say about A-ball pitchers, so I'll turn things over to my colleague Eric Longenhagen, who can provide way more detail about the prospects than I can. All three have been added to the Royals list on The Board.
T.J. Sikkema is a lower-slot lefty starter prospect with a four-pitch mix that features east/west action. He sits 90-94 mph with tailing movement, but his lower arm angle enables him to elevate the fastball situationally. He has a long, sweeping slider that has more lateral movement than true two-plane depth, and Sikkema can manipulate it into a more vertical curveball. While his slot makes his slider tough on lefty batters, Sikkema doesn't lean on it solely and will work his changeup to lefties as well. Yes, Sikkema is a 24-year-old who was still at High-A, but he missed each of the last two years due to the pandemic and a lat strain, which kept him out for all of 2021. He got built up slowly in May and only recently began to work more than four innings, at times piggybacking in relief. His last three outings prior to the trade had been dominant, as Sikkema struck out 29 hitters in 14.2 innings. He doesn't have huge velocity, but polished command gives his fastball robust utility and a way to set up his secondary stuff. While he looks like a pitchability backend guy if you fixate on his fastball velocity, Sikkema's command and the quality of his secondaries give him a shot to be a contending teams' fourth starter. He needs to be added to Kansas City's 40-man roster after the season and is likely to make his big league debut next year.

Beck Way is two years younger than Sikkema and had been pitching at the same level, High-A Hudson Valley, but he's a much less polished hurler. A Pennsylvania high schooler who went to a Florida Junior College, Way was the Yankees 2020 fourth rounder and spent 2021 at Low-A, where he struggled some with walks. His arm swing is still quite long and contributes to release inconsistency that impacts Way's fastball command most significantly. He has better feel for locating his slider, which he throws more than any other pitch. It can vary in shape but is typically in the 81-86 mph range and is often very nasty. Way throws his fastball and slider nearly 90% of the time, and while it's certainly possible for him to work as a starter despite his heavy slider use, it's a much more common approach to pitching in the bullpen, where Way's delivery and current feel also push him. He still presents Kansas City with good arm strength, a yet-projectable frame, and on-mound athleticism that could conceivably lead to Way's current issues being ironed out. I think he's a fairly standard middle relief prospect.

Chandler Champlain is a physical 23-year-old righty who only started for one year at USC, his 2021 draft spring. He was a high-profile high schooler who went to SC and didn't get much better there, though he's incorporated a second breaking ball into his pro repertoire and is holding about two ticks more velocity deep into Low-A starts. Champlain will sit 92-96 mph early in starts before backing into the bottom of that range later on. His fastball shape isn't great but his somewhat violent delivery makes him deceptive, and the ball jumps on hitters the first time they see him. His best secondary pitch is still his huge overhand curveball, which has powerful break in the upper-70s. Because he was just drafted, he has a pretty long developmental runway for a pitcher his age, though his likely long-term outcome is, again, probably that of a middle reliever.
From me, this is a thumbs-up trade for both of the teams involved. It was the right player at what I believe is the right price — my fantasy trade of Benintendi even had a similarly valued package heading to Kansas City.