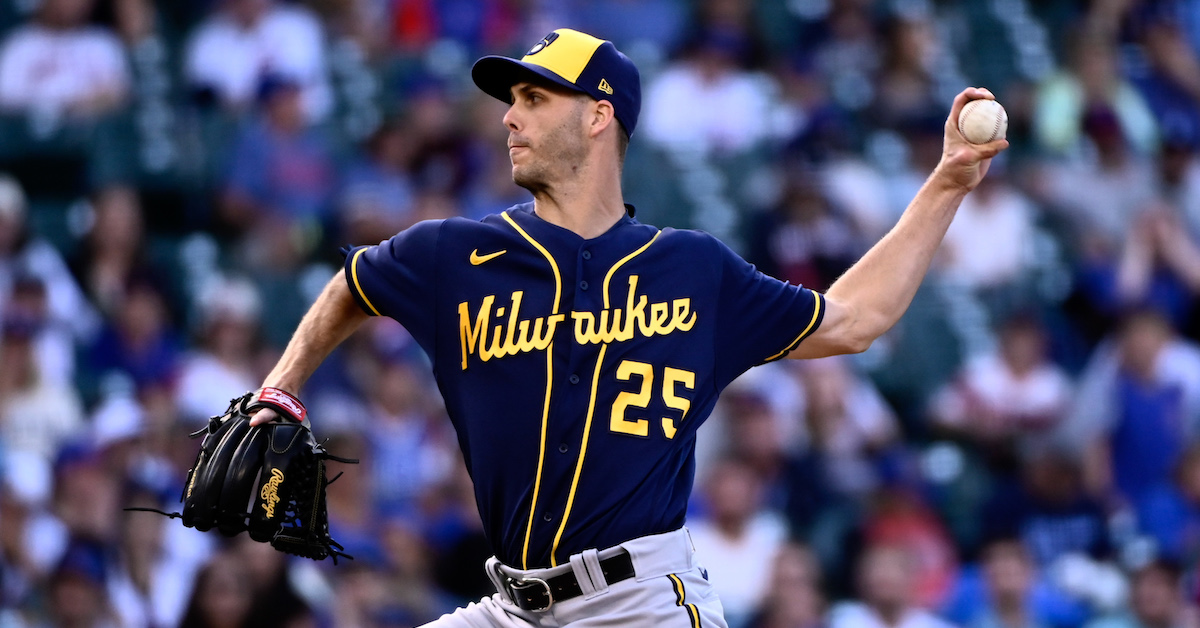 While Josh Hader's post-trade meltdowns have gotten more attention, the rest of the Padres' bullpen has generally pitched well in August, and despite a modest 15-13 record this month, the team is still holding onto a Wild Card position. Meanwhile, the Brewers, who received 2021 All-Star Taylor Rogers and three other players in the deal, have fared worse since the swap, not only with regards to their remade bullpen but also in other areas, and right now, they're the ones outside the playoff picture.
I dug into Hader's ongoing woes and the Padres' side of things on Tuesday while doing a fly-by on the Brewers. To recap, in exchange for the 28-year-old Hader — who has a year of arbitration eligibility remaining and figured to get a raise to something in the neighborhood of $15 million — they received the 31-year-old Rogers (a pending free agent), 30-year-old righty Dinelson Lamet (designated for assignment before even throwing a pitch), 23-year-old lefty prospect Robert Gasser (then at High-A, and promoted from Double-A to Triple-A this week), and 23-year-old outfielder Esteury Ruiz (then on the Padres' roster, now back in Triple-A).
At the time of the trade, the Brewers were 57-45, three games ahead of the Cardinals (54-48) in the NL Central race, and with the league's fourth-best record behind the Dodgers (68-33), Mets (64-37) and Braves (62-41). Since then, they've gone just 11-15, which might not be such a big deal if the Cardinals hadn't gone 21-7 over the same stretch, producing a nine-game swing in the division standings. Meanwhile, the Braves (17-10), Phillies (17-11) and Padres have all outdone the Brewers, leaving Milwaukee 2.5 games out of the third NL Wild Card spot. Here's an updated look at the impact on their Playoff Odds:
Brewers Change in Playoff Odds
| Date | W | L | Win% | GB | Win Div | Bye | WC | Playoffs | WS |
| --- | --- | --- | --- | --- | --- | --- | --- | --- | --- |
| Through July 31 | 57 | 45 | .559 | +3 | 80.3% | 3.9% | 9.4% | 89.6% | 5.2% |
| Through August 30 | 68 | 60 | .531 | 6 | 8.4% | 0.0% | 35.6% | 44.0% | 1.9% |
| Change | 11 | 15 | .423 | 9 | -71.9% | -3.9% | +26.2% | -45.6% | -3.3% |
In one month, their odds of playing in October have been cut in half, more or less. While the bullpen hasn't been the only area in which the Brewers have struggled, it was the only one that president of baseball operations David Stearns addressed in the days leading up to the August 2 trade deadline, not only with the Hader-Rogers trade but also the late July free agent signing of Jake McGee and the deadline acquisitions of Matt Bush from the Rangers and Trevor Rosenthal from the Giants.
Through the end of June, the Brewers ranked fourth in the NL in both ERA (3.50 and FIP (3.76), with Hader (1.09 ERA, 1.70 FIP) and Devin Williams (2.12 ERA, 1.64 FIP) both pitching their way onto the NL All-Star team and Brad Boxberger (2.12 ERA, 3.80 FIP) doing a solid enough job in a setup role. Hader's performance woes took hold in July (12.54 ERA, 8.16 FIP), and the production of Boxberger, Trevor Gott, and Hoby Milner went south, with only Williams and Brent Suter pitching well with any regularity; the unit finished the month with a 5.26 ERA and 4.50 FIP.
Particularly with the Brewers going 13-11 in July after a 12-15 June, you can understand why Stearns felt the need to address the bullpen situation. The McGee move amounted to little, just 5.2 rough innings with an ERA and FIP both above 6.00 before he was DFA'd; the Nationals claimed him on waivers. Rosenthal, who missed all of 2021 after undergoing surgeries to alleviate thoracic outlet syndrome and to repair a torn hip labrum — and who had thrown just 39 innings in the three seasons before that due to Tommy John surgery and control issues — had been signed to a one-year, $4.5 million deal (prorated) by the Giants just after the All-Star break, but didn't pitch due to a hamstring strain. The Brewers traded 22-year-old outfield prospect Tristan Peters to San Francisco in exchange for Rosenthal, but he made just three rehab appearances before suffering a lat strain that will likely sideline him for the rest of 2022. Oops.
The new-look bullpen got off to a rough start on August 3 against the Pirates, as McGee, Bush, and Suter frittered away an early 4-0 lead. The Brewers scored three runs to re-tie the game at 7-7 when Rogers entered, and he pitched a scoreless eighth, but Williams served up a walk-off homer to Bryan Reynolds in the ninth. The following night, the 'pen let another one against the Pirates slip away when Brandon Woodruff exited with a 3-2 lead in the seventh but runners on first and second; Boxberger allowed the tying run, and after the Brewers scored in the top of the 10th, Bush allowed two runs in the bottom of the frame. The Pirates swept the three-game series.
The troubles continued. On August 7, with the Brewers and Reds tied 1-1 in the top of the eighth, Rogers struck out two of the first three hitters he faced before giving up a single, a wild pitch, and an RBI double by Donovan Solano to give Cincinnati the lead. Keston Hiura's game-tying ninth-inning solo homer went for naught as Williams yielded two runs in the 10th.
Rogers has mostly pitched well since then, except for on August 13, when he entered in the eighth inning of a 2-2 game against the Cardinals and allowed homers to Dylan Carlson and Albert Pujols, the latter of which was a three-run shot; the Brewers lost 6-3. In all, though, he has a 4.50 and 3.63 FIP since the trade, that on top of a 9.31 ERA and 2.09 FIP in July; as his overall numbers (4.38 ERA, 2.60 FIP) suggest, he's been burned by a .320 BABIP and some bad sequencing. He's hardly alone, as it's been another shaky month for Milwaukee's bullpen, with the group posting a 3.94 ERA and a 4.41 FIP. Their high-leverage relievers — Williams (2.61 ERA, 5.06 FIP, 3 Sv), Bush (4.09 ERA, 4.31 FIP, 2 Sv), and Boxberger (3.00 ERA, 4.20 FIP) — have been erratic at best.
After blowing just 12 saves through the end of July — that is, times when a reliever in a save situation surrendered a lead, even if it was as early as the sixth inning — the bullpen has blown nine saves in August, including one on Tuesday night against the Pirates (again). They've gone 1-6 in those games; twice they doubled up, both in extra-inning games. Eleven of their 15 losses this month have been by one or two runs, magnifying the relievers' shortcomings.
Putting the Brewers' slide entirely on the bullpen isn't fair, however. A rotation that was one of the game's best before Freddy Peralta suffered a posterior shoulder strain in his May 22 start — knocking him out of action for 10 weeks — has struggled since then. While Woodruff and Corbin Burnes have combined for a 3.03 ERA, 3.07 FIP, and 4.2 WAR over the three-plus months since Peralta went down, the seven other starters the Brewers have used (including Peralta, who's made five starts since returning) have combined for a 4.75 ERA, 4.91 FIP, and 0.6 WAR. Eric Lauer (4.21 ERA, 5.42 FIP), Adrian Houser (6.80 ERA, 5.13 FIP), and Aaron Ashby (5.03 ERA, 4.29 FIP) have all turned into pumpkins after promising starts to their seasons. That Woodruff himself went down with a right ankle sprain a week after Peralta, costing him four weeks, didn't help, either.
In all, the Brewers have gone from having one of the league's best rotations to one that's good at missing bats but otherwise middle-of-the-pack at best, with walks and homers a real problem:
Brewers Rotation Performance, 2021–22
| Year | ERA | FIP | K% | BB% | K-BB% | HR/9 | WAR |
| --- | --- | --- | --- | --- | --- | --- | --- |
| 2021 Full | 3.13 (2) | 3.29 (1) | 26.2% (2) | 7.7% (6) | 18.5% (2) | 0.82 (1) | 20.3 (2) |
| 2022 Through May 23 | 3.32 (4) | 3.33 (2) | 28.0% (1) | 7.8% (6) | 20.2% (1) | 0.99 (7) | 4.4 (2) |
| 2022 Full | 3.86 (8) | 3.93 (8) | 24.9% (1) | 8.7% (13) | 16.2% (7) | 1.17 (10) | 9.3 (8) |
The offense has been in a bit of a drought as well, dropping from 4.65 runs per game on .240/.320/.417 (106 wRC+) hitting through the end of July to 4.19 runs per game on .220/.307/.399 (98 wRC+) hitting in August. Led by Rowdy Tellez (137 wRC+), they've still gotten above-average production at five positions this month, but not catcher (Victor Caratini and Omar Narváez have somehow combined for a 19 wRC+), third base (a 66 wRC+ between Luis Urías, Mike Brosseau and friends), center field (67 wRC+ between Tyrone Taylor, Jonathan Davis and Garrett Mitchell), or DH (70 wRC+, with too much Andrew McCutchen and not enough Hiura). Their center field woes are particularly notable, as the team made my Replacement Level Killers list. In theory, the acquisition of Ruiz could help there, but he's been stashed at Nashville, and not to further his career in country music.
The final chapter has yet to be written on these Brewers, who at least have an easier schedule the rest of the way (.478, according to our Playoff Odds) than the Braves (.496), Phillies (.510) and Padres (.520) if not the Cardinals (.466). The Hader trade may have rated as a shock on the Milwaukee side, but it's by no means the only reason this team may miss the cut for October, even given its ongoing bullpen blahs. A rotation with a weak back end, an offense that suddenly has too many holes, and a combined 19-18 record against the Cubs and Pirates — teams that are 18 and 31 games below .500 at this writing, respectively — may be what keeps them at home this fall.