Germany bounced back from Tuesday's defeat at the hands of Türkiye with a four-set win over Thailand at the FIVB Volleyball Women's World Championship 2022 on Wednesday. In a Pool F match at the Atlas Arena in Lodz, the European team delivered a 3-1 (25-19, 25-22, 18-25, 25-23) victory.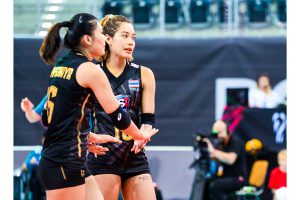 There are three more Pool F games to be played later on Wednesday: Türkiye vs Canada at 17:30 local time (15:30 GMT), Serbia vs Dominican Republic at 19:00 (17:00) and United States vs Poland at 20:30 (18:30). Before these matches, defending champions Serbia lead the current pool standings on a 6-0 win-loss record. USA with 15 points and Türkiye with 14 come next on 5-1, followed by Canada on 4-2 and 11 points and Thailand on 4-2 and 10. Germany are still bottom on 3-4 and 10 points, below the Dominican Republic (11 points) and Poland (10) on 3-3 each. The top four teams from each of the two second-phase pools will advance to the quarterfinals.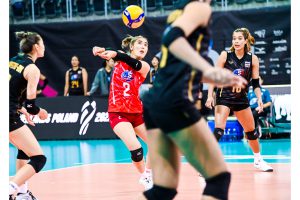 · Watch all FIVB Volleyball Women's World Championship 2022 matches live on Volleyball TV.
While Thailand's outside hitter Ajcharaporn Kongyot registered the match high of 22 points, middle blocker Camilla Weitzel was the leading scorer for the winners with 18 points, including as many as six of Germany's 14 kill blocks in the game. The other middle, Marie Scholzel came next down the scorers' chart with 13 points, including two blocks and two of the team's six aces. Opposite Pimpichaya Kokram also finished with 13 points for the Asian side.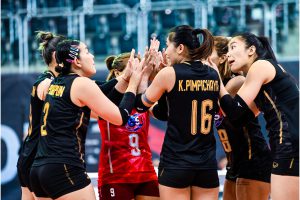 Thailand's outside hitter Chatchu-On Moksri took the first serve of the match and then scored the first point with a back-row attack. After 7-5 Thailand's way, Germany went on a four-point run, crowned by an ace from Scholzel for 9-7 and never looked back. Putting lots of blocking pressure on their opponents, the Europeans cruised on to widen the gap. Their outside Hanna Orthmann scored as many as eight points in the set, including a kill block for a 24-18 set point and a spike for the 25-19 set winner.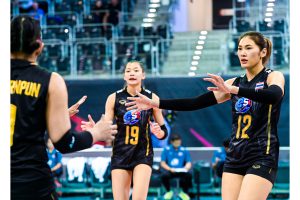 A series of five consecutive points gave Thailand an 8-5 lead in the second set and they stayed in control through 14-10. After the Germans sided out, an ace by opposite Lina Alsmeier for 14-12 set off a run that led to a 14-14 tie. Outside hitter and captain Jennifer Janiska spiked down the line to put Germany back in the lead at 16-15 and another ace by Scholzel extended it to 18-16. All Thailand managed to do through the end of the set is balance the score momentarily at 20-20 on a monster block by middle Thatdao Nuekjang, but then it was all about Germany again. A block by substitute Monique Strubbe brought in set point at 24-21 and a spike by substitute Lena Stigrot closed the set at 25-22.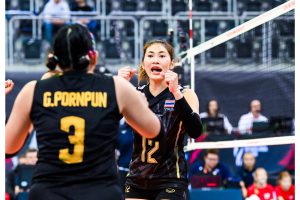 2-2 was the last time the score was tied in set three. Thailand's setter and captain Pornpun Guedpard scored from the serving line to start her team's breakaway. The Asian team put a lot of precision into their game during the set, while the Germans made far too many unforced errors. The gap started expanding to go as wide as six points. After 16-10, the Europeans attempted a comeback with a four-point series, which included an ace by setter Pia Kastner and two points in a row by Weitzel for 16-14, but that was as close to closing the gap as they could get. With Ajcharaporn on fire in offence and Pornpun putting in another ace for 23-17, Thailand stayed well in control of the set to win it by a 25-18 margin.
Thailand jumped into a 6-3 lead in the third set on a monster block by Pimpichaya and kept it up until 8-5. Germany drew level on consecutive blocking points by Weitzel and Orthmann, however, for 8-8 and even stepped in front with a 9-8 edge. Gradually, they established a solid control of the scoreboard and as Kastner aced again for 17-13, the gap widened to four points. The Thais kept the battle burning and managed to get back to within one at 21-20 to prompt a tight ending. The Germans held up though. Janiska hammered the ball to bring in match point at 24-22. A rally later, the German captain converted it to a 25-23 victory with a clever tip.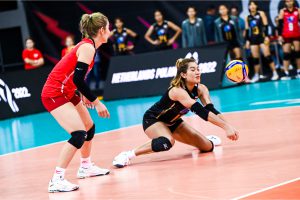 "This was an important win for us. We fought, we put all in on the court and we are very proud of ourselves," said Weitzel after the game. "Of course, for me it is very important to be involved in the game. We have a lot of players who are getting involved in the game. We have a great bench, so people are coming in all the time, and our setter is doing a great job getting everyone involved, especially us, middle blockers. Today I was lucky enough to have a good blocking day. I just give great compliments to all the team, but especially the setter. She's been amazing this tournament…"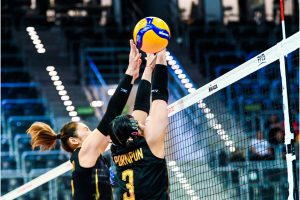 Thailand's next match in Lodz is against Serbia on Friday at 15:00 local time (13:00 GMT). Later that day, at 19:00 (17:00), Germany will meet the Dominican Republic.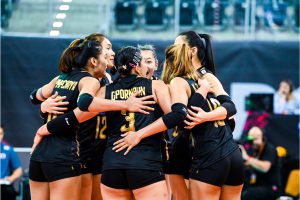 In Wednesday's first Pool E game in the Dutch city of Rotterdam, Italy came back from a set down to claim a 3-1 (20-25, 25-20, 25-14, 25-15) win over Japan. China and Puerto Rico play at 17:15 (15:15), followed by Belgium and Argentina, who will take to the court at 20:15 (18:15).
Related links of AVC
AVC Website: click www.asianvolleyball.net
AVC Facebook: click www.Facebook.com/AsianVolleyballConfederation
AVC Twitter: click: www.twitter.com/AsianVolleyball
AVC Instagram: click: https://www.instagram.com/avcvolley/?hl=en
AVC Youtube: click: Asian Volleyball Confederation
AVC WeChat: Asian Volleyball Confederation
The post THAILAND SUCCUMB TO 1-3 DEFEAT TO GERMANY TO GO DOWN TWO IN A ROW IN WOMEN'S WORLD CHAMPIONSHIP SECOND PHASE appeared first on Asian Volleyball Confederation.