Sam Haiby often saved her best work for the final minutes of fourth quarters. That's when the Nebraska women's basketball guard found an extra gear for aggressive, twisting drives that usually ended in layups or foul shots.
NU will have to find a new closer after coach Amy Williams announced Haiby will miss the entire season with a leg injury. A four-year starter and 1,000-point scorer, Haiby chose to return for an extra "super-senior" year and currently ranks No. 8 at NU in career assists and No. 15 in career points.
"We are obviously disappointed that Sammi will not be on the court with us this season," Williams said in a news release, "but she remains a critical member of our team. We will continue to lean on her for leadership and guidance."
Reached via text, Williams declined further comment until she meets with the full media Tuesday morning. NU made the NCAA Tournament last season and found itself a part of preseason Top 25 ballots thanks to returning firepower and experience.
The Huskers still have plenty of both. Jaz Shelley, Isabelle Bourne, Allison Weidner and Alexis Markowski all started games last season. But they'll be without Haiby, who has played in 117 career games and was a second-team All-Big Ten player in 2020-2021, when she averaged 16.8 points, 6.8 rebounds and 4.4 assists per game during the COVID pandemic.
The NCAA did not that count that season of eligibility against Haiby or any other college basketball player, so she had a chance to return for this year.
"I still feel like I have more to accomplish as a player and a leader," Haiby said in late March. "I am coming back to Nebraska next season because we believe we can take our program another step further together. I can't wait to go to work again with this team."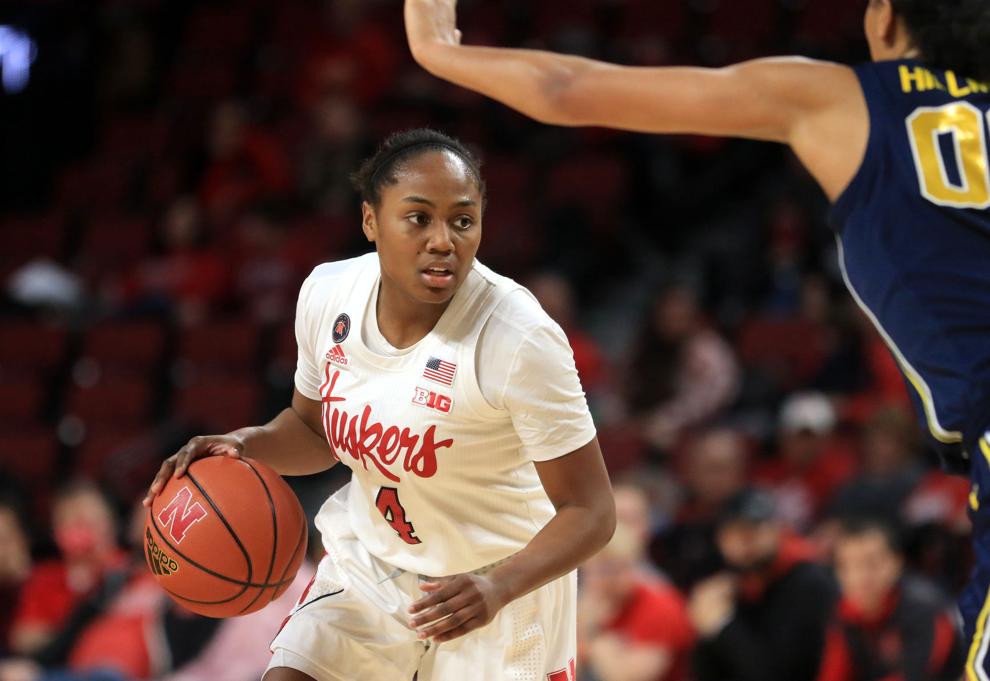 With Haiby, Nebraska may have had the Big Ten's most balanced backcourt. Shelley, second-team All-Big Ten, led the team in points, assists, steals and blocks, freeing Haiby to play slightly fewer minutes and deliver in crunch time. Weidner, who averaged 7.2 points and 3.7 rebounds per game, made a move late in her freshman season to solidify a major role headed into this year. And Maddie Krull, a versatile two-year starter at South Dakota, transferred to NU in the offseason.
Without much hiccup, the Huskers could roll out a Shelley-Weidner-Krull starting trio in Williams' fast-paced, open offense. The question now: Who earns minutes off the bench as the fourth and fifth guards?
Nebraska's two Kendalls, Coley and Moriarty, are options, although Coley can play closer to the post in a pinch. Williams has used both sophomores as defensive stoppers as their offense evolves.
Trinity Brady and Nailah Dillard add depth if they're cleared to play. A Texas Tech transfer, fourth-year sophomore and college graduate, Dillard has missed two full seasons at Nebraska with separate hip and knee injuries. She's yet to appear in a Husker game. Brady, a junior, has played in 19 career games, but none since December 2020. NU staff members believe Brady is as healthy as she's been since coming to the program.
Freshman Callin Hake could find a role, too. Hake scored 2,232 career points for Chanhassen High School in Minnesota and was a top-100 recruit according to two different services.
Those options may combine to equal the production of one Haiby, who averaged 11 points, 4.5 rebounds and 3.9 assists last season as Shelley took over point guard duties. In theory, Haiby can request a sixth year of eligibility from the NCAA, since the governing body grants injury waivers to athletes. But in the final minutes of a fourth quarter this season, Haiby's role will be that of a bonus coach.