Hey there RCLers and happy MLB trade deadline day.  In just a few hours we'll finally have everyone settled into their new homes and we can stop fretting over how many closers we are going to lose.  In the meantime, you may as well go roster a few handcuffs just in case.  You can always drop them right before lineup lock tonight.  This is the beauty of the Razzball Commenter League "turn and burn" roster style that I really love.  Rotate those final roster spots and hope when the dice are done rolling, you've got a Yahtzee…or a usable MR turned closer for a last-place team, whatever works.  Our RCL trade deadline is still two weeks away, so if you do lose a closer or two, fear not, there's still time to wheel and deal.  Let's take a look at this week's trades and the rest of the week that was, week 16:
Each week we'll peek in at our resident 'perts to see who is laying claim to best "expert" RCLer in the land.  We'll take notes, check the standings and generally stalk them.  The heading is also hyperlink, so feel free to follow along as we go.
There was very little movement this week in the 'Perts league, with no team gaining or losing more than 2.5 points.  B_Don and I led the way, each gaining 2.5 points, B_Don picked up a spot in the standings and I stretched my lead a smidge.  Cram It and Blair lost 2.5 points but didn't move in the standings.  The biggest drop in the standings belongs to Grey who fell from sixth to eighth after losing 1.5 points.
Each week we'll also take a look at the top ten overall standings in our other Razzball sponsored league, the RazzSlam.  This is our NFBC Best Ball league with managers from all across the industry, from content providers to fans and readers just like you.
I'm liking the top 20 for the playoffs, and will stick with that.  JKJ and Coolwhip are holding things down in the top ten for Team Razzball, but Zach is right there in 12th as well.  Grey is currently the bubble team in 31st place and DT is hanging around the top 30 as well.  Good work fellas, my 59th place will need to drastically improve for me to make the next round.  There are two weeks to go until round two!
TOP 10
For those too lazy to check the MASTER STANDINGS, I present to you, the current top 10
I can't complain about my best ball teams, because my RCL teams are killing it right now with four in the top eleven.  Wake Up is giving me a heck of a run though, more on him later, but if he stays this hot that poor LCI might not matter.  My ECFBL team tried to make it four in the top ten, but Jersey Pine 5 had other plans as he's currently whooping me in Crab Army and knocked me out of tenth to boot.
TRADES
All the trades that have gone down in the past week.  Public ridicule is not only allowed, but encouraged.
Ten trades got done this week with NOTLZ and RCL #30 accounting for three each.  Blue Squadron 30 had to love that Luis Castillo trade just days after acquiring him.  The ECFBL trade cracks me up with two hitters on the move for three pitchers.  That takes a certain kind of roster construction to pull that move off.
WEEKLY LEADERS
The best of the best from the week that was.
R – 52 – stechsjj (RCL 2022 (#35))
HR –22 – Wake Up (RCL 2022 (#6))
RBIs – 56 – Bryce Krispies (RCL 2022 (#5)) & ALL BETTS ARE OFF (RCL 2022 (#8))
SB – 14 – NCPhilly Fanatics (RCL 2022 (#39))
AVG – .328 – hollaphant (RCL 2022 (#44))
K – 106 – Danfu (Crab Army)
W – 8 – Bud.Bud.Bud.Bud. (RCL 2022 (#35)), Rum Soaked (RCL 2022 (#24)) & Whitecaps (RCL 2022 (#2))
SV –  10 – MattTruss (PERTS LEAGUE)
ERA (Min. 40 IP) – 1.34 – Denzikk (RCL 2022 (#18)) (in 47 IP)
WHIP (Min. 40 IP) – 0.766 – Denzikk (RCL 2022 (#18))
No records were broken this week, though Danfu gave the strikeout record a run.  Wake leads every team in HRs and just added to his lead this week.  Let's chat some more about Wake below:
TEAM OF THE WEEK
Our weekly shout out to the team that killed it the previous week.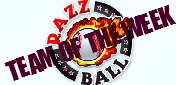 Team: Wake Up
League: RCL 2022 (#6)
Stats:   AVG: .259, R: 46, HR: 22 RBI: 52, SB: 3
IP: 62, ERA: 2.61, WHIP: 0.968, K: 79, W: 6, SV: 3
Summary: You may have thought Wake winning TOW during the three-day week was a fluke or small sample size, well, he stayed molten hot this week too and goes back to back on us.  This is some heater from Wake and if he keeps this up that 95 LCI won't matter.  A 118 league score (he added another 0.5 points this week to move to 114.5) might overcome the poor LCI and put him ahead of my DFSers team.  I'm concerned about the LCI in the 'Perts league since we have a couple teams at the bottom not making moves and maybe not making the IP limit, but we appear safe from that fate in DFSers.  WAke did just lose Julio Rodriguez for a week, so we may have a chance to catch our breath here but over the past 14 days Aaron Judge has gone bonkers with nine dingers and 21 RBIs while chipping in two steals!  In the pitching department, Carlos Rodon is striking out the world with 27 in 18 IP while Lodolo and Cease have identical ratios in 12 IP of 0.75 ERA and 1.083 WHIP.  Not a bad two-week run.  Once again, nice work, Wake!
Want to be Matt's Twitter pal?  That's kinda creepy, but you can follow him here: @MattTruss