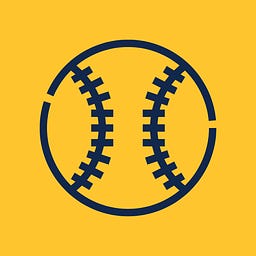 The New York Mets and Atlanta Braves are heading to the playoffs — that much is certain — but it remains unclear which of these powerful clubs will wear the crown in the National League East.
The Mets and Braves were assembled with postseason success in mind. New York spent a ton of money to improve its roster for 2022, while Atlanta brought back most of the key players from its world-championship run last year.
It's their mutual misfortune to play in the same division, where only one team can earn a first-round bye in the playoffs.
The NL East standings have been neck-and-neck most of the season, and so are the yearend grades that I have given the two clubs. The Mets emerge with the barest of edges on the four-point academic scale. Their grade-point average (GPA) of 3.20 is slightly ahead of Atlanta's 3.17.
Today's story features the fourth installment of my divisional report cards. I'm assessing each club in 10 categories — five on the batting/offensive side, the other five on the pitching/defensive side — based on statistics as of September 15. (That deadline, three weeks before season's end, gives us a chance to run through all six divisions prior to the playoffs.) Grades are determined on a curve that encompasses all 30 big-league teams.
You'll see five stats appear twice in each club's profile, once as a measure of offensive production (highest is best) and once as a reflection of defensive prevention (lowest is best).
Let me give you a quick list of the statistics: runs per plate appearance, bases per out (bases attained by hits, walks, hit batsmen, stolen bases, and sacrifices, divided by outs made), isolated-power average (extra bases reached by doubles, triples, and homers, divided by at-bats), contact rate (at-bats that did not end in strikeouts), and batting-eye rate (unintentional walks per plate appearance). Click here to learn more about these stats.
The Mets and Braves, as I've said, are essentially co-leaders of the NL East in my rankings — and in the real-life standings, too. Here's a quick rundown of what I've found:
1. New York Mets (3.20 GPA) — The Mets are heading to the postseason for the first time since 2016. They've earned four A's in the 10 categories, including three on the pitching side. None of their grades is lower than a C.

2. Atlanta Braves (3.17 GPA) — The Braves boast the division's best GPA for pitching (3.60 for those five categories), but they fall a bit short of the Mets on the offensive side of the game. Atlanta's striking weakness (pun fully intended) is an F for contact hitting.

3. Philadelphia Phillies (2.93 GPA) — The Phillies are perfectly balanced, with identical GPAs of 2.93 for batting and pitching. They could be on their way to their first playoff appearance in 11 seasons.

4. Miami Marlins (1.00 GPA) — The Marlins' batters haven't been getting the job done, as evidenced by their three D's and two F's. Miami's pitching hasn't been all that great, either, though it seems tremendous in comparison to the club's anemic hitting.

5. Washington Nationals (0.73 GPA) — It may be hard to remember (and believe), but the Nationals won the World Series just three years ago. Most of the stars of 2019 are gone, and the remnants are not producing. Washington's report card includes four D's and five F's.
Scroll below to see the summaries for all five clubs in the NL East. Our next stop will be the NL Central on Tuesday.
A new installment will arrive in your email each Tuesday and Friday morning
Overall GPA: 3.20 points.

GPA splits: Offense GPA of 2.87 points. Pitching/defense GPA of 3.53 points.

Run production: .123 runs scored per plate appearance. (Grade: B+.)

Base production: .697 bases per out. (Grade: B.)

Extra-base production: .152 isolated-power average. (Grade: C.)

Contact hitting: .779 contact rate. (Grade: A.)

Batting eye: .078 batting-eye rate. (Grade: C.)

Run prevention: .102 runs allowed per plate appearance. (Grade: A-.)

Base prevention: .619 bases allowed per out. (Grade: B+.)

Extra-base prevention: .137 isolated-power average allowed. (Grade: A-.)

Power pitching: .715 contact rate allowed. (Grade: A.)

Control pitching: .072 batting-eye rate allowed. (Grade: B.)
Overall GPA: 3.17 points.

GPA splits: Offense GPA of 2.73 points. Pitching/defense GPA of 3.60 points.

Run production: .131 runs scored per plate appearance. (Grade: A.)

Base production: .725 bases per out. (Grade: A.)

Extra-base production: .191 isolated-power average. (Grade: A.)

Contact hitting: .729 contact rate. (Grade: F.)

Batting eye: .075 batting-eye rate. (Grade: C-.)

Run prevention: .102 runs allowed per plate appearance. (Grade: A-.)

Base prevention: .601 bases allowed per out. (Grade: A.)

Extra-base prevention: .129 isolated-power average allowed. (Grade: A.)

Power pitching: .711 contact rate allowed. (Grade: A+.)

Control pitching: .080 batting-eye rate allowed. (Grade: C.)
Overall GPA: 2.93 points.

GPA splits: Offense GPA of 2.93 points. Pitching/defense GPA of 2.93 points.

Run production: .126 runs scored per plate appearance. (Grade: A-.)

Base production: .704 bases per out. (Grade: B+.)

Extra-base production: .171 isolated-power average. (Grade: B+.)

Contact hitting: .755 contact rate. (Grade: C+.)

Batting eye: .076 batting-eye rate. (Grade: C.)

Run prevention: .112 runs allowed per plate appearance. (Grade: B-.)

Base prevention: .633 bases allowed per out. (Grade: B.)

Extra-base prevention: .142 isolated-power average allowed. (Grade: B.)

Power pitching: .738 contact rate allowed. (Grade: B.)

Control pitching: .074 batting-eye rate allowed. (Grade: B.)
Overall GPA: 1.00 points.

GPA splits: Offense GPA of 0.40 points. Pitching/defense GPA of 1.60 points.

Run production: .097 runs scored per plate appearance. (Grade: F.)

Base production: .601 bases per out. (Grade: F.)

Extra-base production: .132 isolated-power average. (Grade: D-.)

Contact hitting: .735 contact rate. (Grade: D-.)

Batting eye: .072 batting-eye rate. (Grade: D-.)

Run prevention: .115 runs allowed per plate appearance. (Grade: C.)

Base prevention: .687 bases allowed per out. (Grade: D+.)

Extra-base prevention: .166 isolated-power average allowed. (Grade: D-.)

Power pitching: .739 contact rate allowed. (Grade: B-.)

Control pitching: .083 batting-eye rate allowed. (Grade: D+.)
Overall GPA: 0.73 points.

GPA splits: Offense GPA of 1.27 points. Pitching/defense GPA of 0.20 points.

Run production: .103 runs scored per plate appearance. (Grade: D-.)

Base production: .631 bases per out. (Grade: D-.)

Extra-base production: .130 isolated-power average. (Grade: F.)

Contact hitting: .782 contact rate. (Grade: A.)

Batting eye: .074 batting-eye rate. (Grade: D.)

Run prevention: .138 runs allowed per plate appearance. (Grade: F.)

Base prevention: .772 bases allowed per out. (Grade: F.)

Extra-base prevention: .185 isolated-power average allowed. (Grade: F.)

Power pitching: .777 contact rate allowed. (Grade: D.)

Control pitching: .089 batting-eye rate allowed. (Grade: F.)