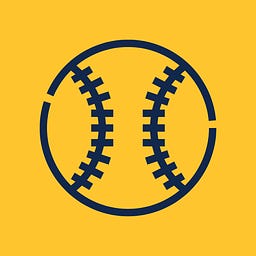 Baseball's schedule for 2022 has only two days left to run, which means it's almost time to close the books on the regular season.
I've already taken that step, opting to begin issuing my yearend grades on September 20 (based on statistics through September 15). I've been focusing on two divisions per week, which will complete the rundown just as the playoffs get underway.
This is the third and final week of the grading period, which means we'll look at the National League Central today and the NL West on Friday.
The story in the Central is a simple one. The St. Louis Cardinals ran away with 2022's divisional crown, breezing past the 2021 titlists, the Milwaukee Brewers, and the other three clubs. And my report cards reflect the disparity.
A quick review: I graded each team in 10 categories, and then I used those 10 marks to generate each club's grade-point average (GPA).
Five categories reflect offensive (i.e., batting) output — run production, base production, extra-base production, contact hitting, and batting eye. The other five deal with defensive (i.e., pitching) performance — run prevention, base prevention, extra-base prevention, power pitching, and control pitching.
Grades are based on a curve that encompasses all 30 big-league clubs, using the four-point academic scale that's familiar to students everywhere.
Five stats do double duty, generating both offensive scores (highest is best) and defensive scores (lowest is best).
The relevant stats are runs per plate appearance (a simple ratio), bases per out (bases attained by hits, walks, hit batsmen, stolen bases, and sacrifices, divided by outs made), isolated-power average (extra bases attained by doubles, triples, and homers, divided by at-bats), contact rates (share of at-bats that did not end in strikeouts), and batting-eye rate (unintentional walks per plate appearance).
Here's a quick rundown of what I found in the NL Central:
1. St. Louis Cardinals (3.00 GPA) — The Cardinals are an offensive powerhouse, drawing three A's and a pair of B's in the five batting categories. Their pitching staff isn't quite as strong, especially when it comes to striking out opposing batters (as indicated by their F for power pitching.)
2. Milwaukee Brewers (2.30 GPA) — The Brewers believed that their superior pitching would carry them to another divisional title. But their staff underperformed, receiving a mediocre GPA of 2.00 for the defensive half of the game. Milwaukee's hitting wasn't much better.
3. Chicago Cubs (1.30 GPA) — The Cubs showed a spark of life late in the season, but it wasn't enough to materially raise their below-average GPAs on both sides of the ball: 1.67 for batting, 0.93 for pitching.
4. Cincinnati Reds (0.93 GPA) — The Reds were consistent in 2022. Consistently bad, that is. They pulled D's in three categories and F's in four. Only one of their 10 grades was above average: B-minus for power pitching.
5. Pittsburgh Pirates (0.60 GPA) — The NL Central proved to be feeble in 2022, and the Pirates were the weakest club of all. Six of their grades were F's: three for batting, three for pitching.
Scroll below to see the summaries for all five clubs in the NL Central. Our final set of report cards, as I've said, will focus on the NL West on Friday.
A new installment will arrive in your email each Tuesday and Friday morning
Overall GPA: 3.00 points.

GPA splits: Offense GPA of 3.60 points. Pitching/defense GPA of 2.40 points.

Run production: .128 runs scored per plate appearance. (Grade: A.)

Base production: .730 bases per out. (Grade: A.)

Extra-base production: .173 isolated-power average. (Grade: B+.)

Contact hitting: .778 contact rate. (Grade: A.)

Batting eye: .084 batting-eye rate. (Grade: B-.)

Run prevention: .108 runs allowed per plate appearance. (Grade: B.)

Base prevention: .634 bases allowed per out. (Grade: B-.)

Extra-base prevention: .136 isolated-power average allowed. (Grade: A.)

Power pitching: .784 contact rate allowed. (Grade: F.)

Control pitching: .078 batting-eye rate allowed. (Grade: C+.)
Overall GPA: 2.30 points.

GPA splits: Offense GPA of 2.60 points. Pitching/defense GPA of 2.00 points.

Run production: .119 runs scored per plate appearance. (Grade: B-.)

Base production: .695 bases per out. (Grade: B.)

Extra-base production: .175 isolated-power average. (Grade: A.)

Contact hitting: .732 contact rate. (Grade: F.)

Batting eye: .090 batting-eye rate. (Grade: B+.)

Run prevention: .116 runs allowed per plate appearance. (Grade: C.)

Base prevention: .655 bases allowed per out. (Grade: C.)

Extra-base prevention: .162 isolated-power average allowed. (Grade: D-.)

Power pitching: .721 contact rate allowed. (Grade: A.)

Control pitching: .085 batting-eye rate allowed. (Grade: D+.)
Overall GPA: 1.30 points.

GPA splits: Offense GPA of 1.67 points. Pitching/defense GPA of 0.93 points.

Run production: .108 runs scored per plate appearance. (Grade: D.)

Base production: .658 bases per out. (Grade: C.)

Extra-base production: .149 isolated-power average. (Grade: C-.)

Contact hitting: .736 contact rate. (Grade: D.)

Batting eye: .080 batting-eye rate. (Grade: B-.)

Run prevention: .124 runs allowed per plate appearance. (Grade: D.)

Base prevention: .708 bases allowed per out. (Grade: D-.)

Extra-base prevention: .176 isolated-power average allowed. (Grade: F.)

Power pitching: .752 contact rate allowed. (Grade: C-.)

Control pitching: .085 batting-eye rate allowed. (Grade: D+.)
Overall GPA: 0.93 points.

GPA splits: Offense GPA of 1.33 points. Pitching/defense GPA of 0.53 points.

Run production: .114 runs scored per plate appearance. (Grade: C.)

Base production: .629 bases per out. (Grade: D-.)

Extra-base production: .141 isolated-power average. (Grade: D+.)

Contact hitting: .736 contact rate. (Grade: D.)

Batting eye: .075 batting-eye rate. (Grade: C-.)

Run prevention: .132 runs allowed per plate appearance. (Grade: F.)

Base prevention: .771 bases allowed per out. (Grade: F.)

Extra-base prevention: .183 isolated-power average allowed. (Grade: F.)

Power pitching: .741 contact rate allowed. (Grade: B-.)

Control pitching: .093 batting-eye rate allowed. (Grade: F.)
Overall GPA: 0.60 points.

GPA splits: Offense GPA of 0.73 points. Pitching/defense GPA of 0.47 points.

Run production: .099 runs scored per plate appearance. (Grade: F.)

Base production: .600 bases per out. (Grade: F.)

Extra-base production: .144 isolated-power average. (Grade: C-.)

Contact hitting: .718 contact rate. (Grade: F.)

Batting eye: .076 batting-eye rate. (Grade: C.)

Run prevention: .129 runs allowed per plate appearance. (Grade: F.)

Base prevention: .717 bases allowed per out. (Grade: F.)

Extra-base prevention: .154 isolated-power average allowed. (Grade: C-.)

Power pitching: .779 contact rate allowed. (Grade: D-.)

Control pitching: .089 batting-eye rate allowed. (Grade: F.)