It could just be the resurgent Midwesterner in me, but I'm getting the sense that the championship that the Bucks won some thirteen months ago is already falling from our collective consciousness. Even at the time, the triumph over Phoenix seemed so odd, so far removed from the conventional collection of champions that it was hard to put your arms around it without feeling obliged to account for all the non-Milwaukee angles that emerged along the way. Kevin Durant's shoe size, Trae Young's Hawks as unworthy Eastern Conference runners-up, Chris Paul's inescapable Barkley trajectory. The Bucks won their first title since Kareem, yet it still felt as if the story of their success was about everything but them. 
Maybe this feeling is exaggerated because I was in the building when last season effectively ended. My first-hand account of Game 2 against the Bulls in the first round is muted and full of redacted scenes. I remember how Khris Middleton wobbled along the baseline of the far-end basket and then he was gone. DeRozan, I'm sure, racked up some tough buckets, and I know the Bulls went back down 43 with a 1-1 split. I think it rained. Beyond that? Ask someone else.
Missing their vital third star, the Bucks achieved Wile E. Coyote physics for a round, rolling past Chicago in five, but could only hang in suspension for so long. Their time hovering beyond the cliff's edge ended emphatically when Jayson Tatum and a turbo-charged Al Horford tossed the Khris-less defending champs an anvil and down they went. Streak-enders one day, a body-shaped silhouette in the desert the next. 
Coming into 2022-23, the memory slipping machine spins up anew – more Durant drama in Brooklyn; Maxey emerges with a potentially (possibly?) resurgent Harden in Philadelphia; Miami actually finished first in the conference last year, thankyouverymuch; what to do about the proud again Celtics? – but the thing is, the 2022-23 Bucks really aren't that different from last year's Bucks, who really weren't that different from the Championship version before them. This team, like those from the past, is damn good. Get swept up in everything else about the Eastern Conference and fade Milwaukee at your own peril is the point I'm slowly arriving at. And while you're at it, scoop up as many of these productive Bucks as you can for your fantasy teams. It's going to be another good year in the Good Land. 
Coming In/Going Out
In: Joe Ingles, MarJon Beauchamp
Out: Donte DiVincenzo
Depth Chart
Guards and Wings
One thing was certainly made clear during the Eastern Conference semis against Boston: in the absence of Khris Middleton, Jrue Holiday was slightly miscast for the role of second star next to Giannis. (In fairness to Jrue, this was true up and down the roster against the Cs. Middleton is foundational and indispensable in Milwaukee). The shot was too erratic, the cold streaks too chilly. Does that mean you should be in your feelings about spending a top 50 pick on Holiday in your upcoming drafts? My brothers and sisters in Christ, it does not. At 32, Jrue is approaching fade territory, but the combination of elite steals, strong assists, and above-average scoring, threes and FG% is still bankable. I'm not pulling the plug just yet. The earlier-than-Hooper-would-have-preferred exit meant a more restful offseason for the lockdown point, presumably refreshing tired legs and creaking joints (see Middleton, Khris). The lead guard options behind him – Hill and Carter – pose no threats to his PT and won't be fantasy relevant in almost any format. Draft Jrue expecting 17+/4+/6+ and 1.6 steals and be happy with the floor. 
Grayson Allen, everyone's least-favorite Ted Cruz impersonator, didn't exactly drown in glory during his first season in Cream City. His 86% free throw shooting (on a positively robust 1.1 attempts per) kept him from being another faceless three-point specialist, but only just. Still, he started 61 of the 66 games he appeared in and averaged a career-high in MPG (27.3). With Milwaukee moving on from DiVincenzo, I'm comfortable projecting him as the starting 2-guard from opening night and don't see many ways for him to lose that perch. Last year's 145 ranking on Basketball Monster feels like the floor to me, and I could see a slight bump as Allen gets more comfortable in the role and possibly sees more time. Open looks from deep will be there, and despite some ups and downs last year, he still canned 40% from the long line. Standard 12-teamers are probably too shallow for him, but not by much. I'm targeting him in anything deeper if I'm hunting threes. 
Copy a lot of what I wrote about Allen and paste it here for Pat Connaughton. There's overlap with these two as far as game goes, but Allen's single peak seems to put him a skosh ahead of Connaughton's more well-rounded and flatter lines. Pat's 130 ranking on Monster grades out higher than Grayson's, but he's three years older, Budenholzer prefers to bring him off the bench, and Connaughton's 2.2 3PM last year was both a career-best and still lagging behind Allen's output. If Grayson is fringy for standard 12-team leagues, then Pat is a trusty streamer. There were enough stretches of good ball from him last year to prove it, and the role is rock solid. 
Given the sheer volume of high-level basketball that he was playing, it wasn't exactly shocking that Khris Middleton finally broke down for real in the Playoffs. The bubble, the short off-season, the compressed 82, the Finals run, the Olympic campaign, the full 82, and the Playoffs is a lot of hoopin' for a man on the wrong side of 30. All that (and an off-season wrist surgery) said, Khash has been consistently solid and generally available for duty since taking over as a full-time starter in 2015-16. The three-time All-Star is lined up to log 30+ minutes a night and churn out strong percentages, triples and points, with a healthy splash of dimes and steals to boot. If a slide is looming, I can't imagine it will be a steep one – a stroke that steady should be a parachute for his downward arc. Plus, as the postseason made painfully clear, there's no one else on the roster who can do what Money Middleton does. Like Jrue, I don't see any reason to start fading him just yet, especially once you get a look at the rest of the wings.
Wes Matthews started 14 times and averaged almost 20 minutes per game but was nowhere near standard league viable. As the old saying goes, Less Matthews is more. Joe Ingles is somehow younger than Wes, but it's been an especially long run since he was a top-100 threat in Salt Lake City. I can't imagine many tickets ultimately cash when betting on 35-year-olds coming back from ACL tears in the world's best basketball league, but bully for anyone with the audacity to try. It certainly won't be me. The best case-scenario for Joe (and the real life fortunes of these Bucks) is that he returns to form well enough to hit some threes and contribute a bit of playmaking with the second unit. It could happen, I suppose, and if it does then he'll effectively drape a wet blanket on the number 24 overall pick MarJon Beauchamp. In general, I'm optimistic about Beauchamp's fit in town. He guards, for one, something that Jordan Nwora never cared enough for and now MarJon has snatched up his spot on the roster. Another injury to a key figure or a complete collapse from Ingles could be enough for Beauchamp to see enough time to flit onto the radar of shallower leagues, but I wouldn't invest draft capital to bet it. Being able to score and defend in transition would certainly give him the inside lane for minutes in the long run, but I'm not sure there's much there for this year. There's dynasty appeal for sure.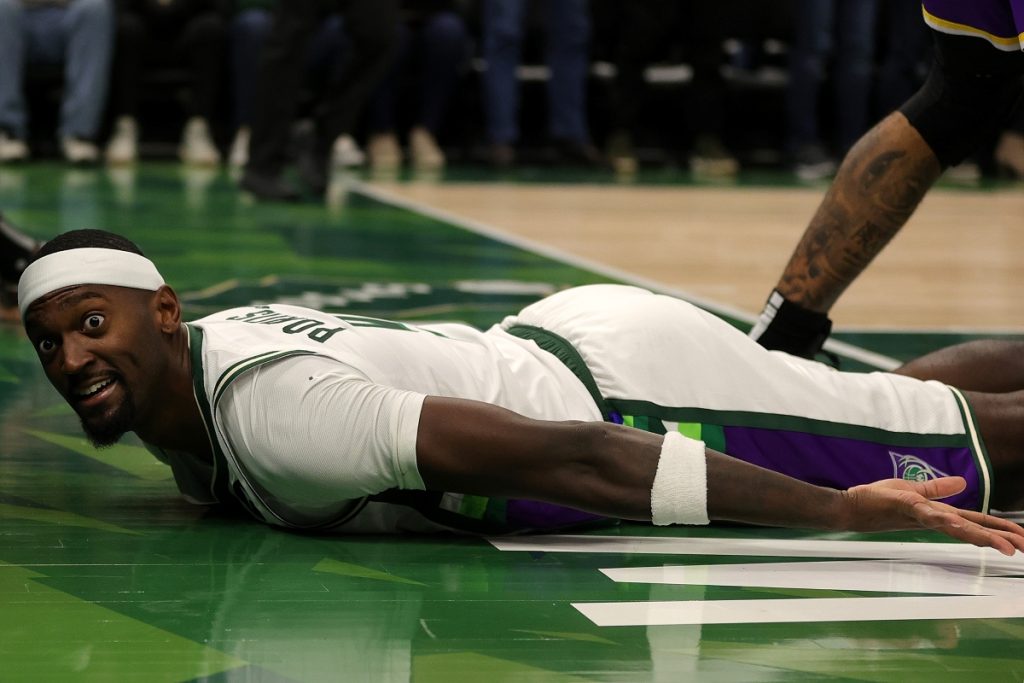 Bigs
Giannis Antetokounmpo is a first-round no-brainer, the only question is how many spots after Jokic does he come off the board. The specific format and scoring of your league are relevant when considering this, as the Freak's free-throw boulder will have to be accounted for. Last year was unequivocally a step in the right direction in that department though, which nudges him higher up my board. Attempts were at an all-time high (11.7), good enough for second behind Embiid, which would be great if he can extend the streak of improving his year-over-year hit rate. (That streak currently sits at two, btw). Last year's percentage eventually landed in the low 70s (72.2%), which makes the volume of attempts work against the cause. These are challenging numbers to work around in a roto format, but if you're H2H, a big man/punt FT build around G is nasty. Giannis will turn 28 this year, and I'd be lying if I said that I think he's leveled off. Draft him. Cherish him. 
Basketball Monster had Bobby Portis as the 58th best player on a per-game basis last year, and while he almost certainly won't do that again, I'm much more interested in drafting BP than I am Brook Lopez. Splash Mountain, as you'll recall, played on opening night and then was in street clothes until March because of a back injury that ultimately required surgery. Lopez will be 35 this year, and the Bucks won't be able to return to the mountaintop without him. I'd expect a mindful rationing of his PT and an obnoxious amount of bubble wrap during the regular season, especially considering how productive and successful Milwaukee was with Crazy Eyes at the pivot. Portis, who posted career highs in minutes (28.2), threes per game (1.8), boards (9.1), and points (14.6), got the bag from the Bucks this offseason to the tune of 4-years/$48M. Portis will play, maybe not as much as he did last year, but certainly enough to warrant your attention. Effective as a starter or a scoring sparkplug off the bench, Bobby's not quite a 1/1/1 player, but he does provide decent defensive stats and percentages that don't rock the boat. He'd be welcome on any roster of mine after, say, pick 75, especially leagues where he's center-eligible (which should be most of them) and you have to start two Cs. Brook and his aging back I'm leaving for someone else. 
As for Thanansis, Sandro, and Serge? No; deep, deep dynasty only; and ugh. I bet Donte shoots like 60% from three for the Warriors and plays perfect defense. It just makes too much sense. What was the point of dealing him for Ibaka again?