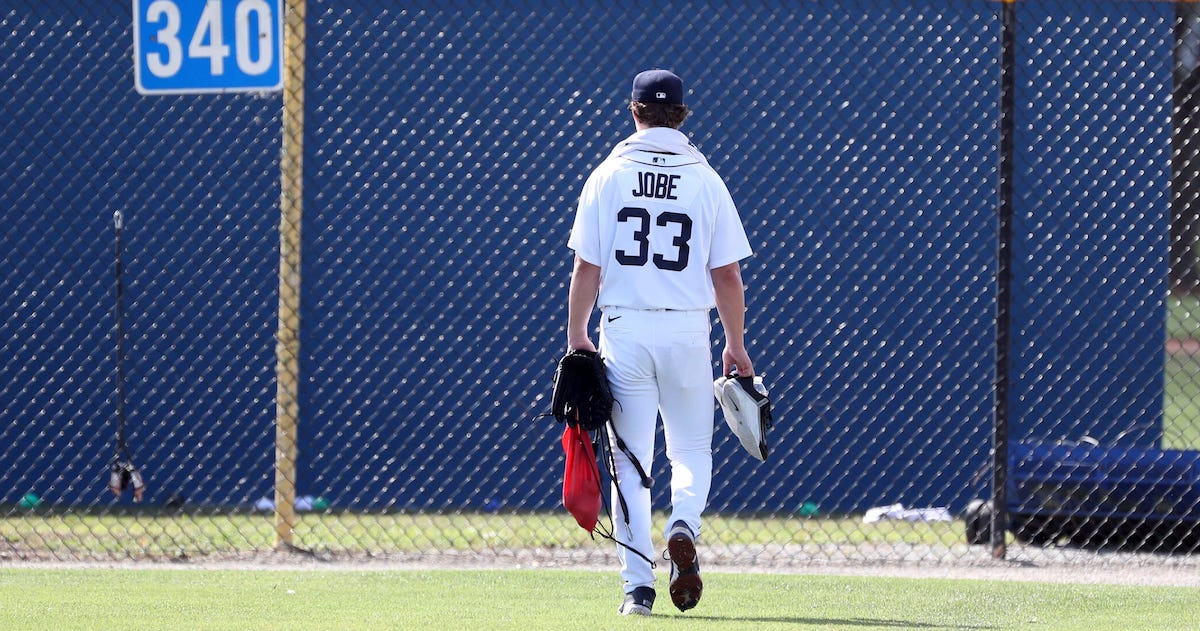 Jackson Jobe has a bright future. Currently first in our Detroit Tigers prospect rankings, the 20-year-old right-hander is coming off a first full professional season during which he logged a 3.94 ERA and 81 strikeouts in 77-and-a-third innings spent between Low-A Lakeland and High-A West Michigan. Drafted third overall last year out of Oklahoma City's Heritage Hall High School, he pairs an array of plus offerings with elite athleticism. What's more, according to our own Eric Longenhagen, the 6-foot-2, 210-pound Jobe "would have been a Day Two pick as a position player."
Jobe discussed his early-career development, as well as the pitches in his power arsenal, at the conclusion of the Midwest League season.
———
David Laurila: Along with pitching, you showed a lot of promise as a position player. At what point did it become clear that your future was on the mound?
Jackson Jobe: "I've always pitched a little bit. Growing up, I always had a good arm — obviously, you've got to have a good arm to play shortstop — but I want to say it was my junior year. My junior year spring was COVID, so I only got one outing before our whole season got banged. At that point, I just kept training. Then summer came around, and they were still doing some of the showcases.
"Perfect Game had a showcase — I want to say it was PG National — and I got invited there to play shortstop and pitch a few innings. I ended up throwing really well. It kind of just clicked, I guess. I threw harder than I'd ever done before. The slider was good. From that point forward, my phone was blowing up with agents and scouts. That was kind of the beginning for me as far as pitching goes."
Laurila: Do you think you could have made it as a position player?
Jobe: "I honestly did think that I could make it as a position player, but pitching just came so natural to me. I had the God-given stuff, so it was a matter of really learning how to be 'a pitcher.' Being a starting pitcher is more than throwing hard and having a good slider. But people thought of me as this great pitcher even though I'd hardly done it, so I felt that if I put a lot of work into pitching, I had a chance to be special. That was kind of my thought process."
Laurila: One more thing before we get to your arsenal. Do you ever daydream about being the next Shohei Ohtani?
Jobe: "Yeah. I mean, 100%. It would definitely be really cool. I think everybody dreams about that. He's kind of a modern day Babe Ruth and will probably be a Hall of Famer. Everyone will remember everything he did, so 100%."
Laurila: You mentioned learning to be "a pitcher." How are you going about balancing being a power pitcher, which you essentially are, with being more than a guy who simply throws hard and has a good slider?
Jobe: "At the beginning of the year, when I didn't have a ton of success, I kind of learned how to navigate through games. I'd kind of been nibbling the corners instead of just attacking guys and being the power pitcher that I am. That kind of got me a little bit out of whack. I was walking guys and the whole bit. So yeah, I think the biggest thing for me is to just attack the strike zone and not try to be too perfect. That said, I've got three pitches right now — a fastball, a slider, and a changeup — and I'm thinking of adding a fourth. Whether that's a cutter or a two-seamer, adding a different look would be beneficial."
Laurila: You're not throwing a curveball?
Jobe: "My slider can be a curveball sometimes; my slider is currently two different pitches. I'll manipulate it a little bit into a curveball when I'm trying to land it, or whatever the case may be."
Laurila: What are the movement profiles of the two sliders?
Jobe: "[The regular one] is kind of like a slurve, I would say — or kind of like a sweeper — and will get over 20 inches of horizontal. At times it will get -5 vertical.
"The one that's more curveball-ish tends to be a little slower, around 79-80 [mph]. The biggest difference is… obviously, if you have a pitch that moves 20 inches horizontally and the plate is [17 inches], it can be difficult to land that pitch sometimes. So, when I drop in that curveball — that slider that I get a little bit over the top on — it goes from 20 inches of horizontal down to 13, but with 10 inches of depth. It's a good get-me-over, and I tend to get a lot of takes on that pitch."
Laurila: I understand that your slider has a high spin rate…
Jobe: "The average will be around 2,950 to 3,000 [rpms], and I've gotten it up to something like 3,300. When I rip it, like for a strikeout, it will be like 3,000 or 3,100. When I drop in the one I want to land, it's around 2,900."
Laurila: What about the movement profile of your fastball?
Jobe: "That was one of the bigger things for me this year. I came into spring training with what someone called a flat fastball. The spin efficiency on it was really low, so I wasn't getting any ride. It was a flat four-seam. I worked on that the entire year, and now I'm getting a lot more of that ride effect, which helps me miss more bats. It allows me to throw that pitch 60% of the time.
"The metrics on it… I spin it pretty well. The average is around 2,500-2,600, although I don't know how much the spin rate on your fastball actually does for you. I know that the vertical movement is what's important. That went from an average of 14 inches of induced vertical to where now I'm getting an average of 17.5. Sometimes I'm getting 18 or 19. That's definitely been big for me."
Laurila: What were the adjustments that helped you add ride?
Jobe: "A lot of it was playing around with different grips. I'd been unconsciously cutting the ball. When I was gripping the ball, I had it preset as a cutter. I had no idea. That was taking away from the spin efficiency and not allowing me to get that good, true backspin. One thing I did with the grip was tuck my thumb, which helps keep my wrist stiff."
Laurila: Where was your fastball velocity this year?
Jobe: "It was usually 94 to 97, comfortably. In my second-to-last start, I was told by our video guy that I hit 100. That was cool. It was my first time, so I was pretty pumped."
Laurila: What can you tell me about your changeup?
Jobe: "My changeup has come a long way. I love throwing that changeup. For whatever reason, I never really felt comfortable with a circle change, and what I have now is kind of like a split changeup. Someone called it a fosh, which is what some old school guys would call it. When it's on, I feel that it's just as good as my slider.
"The velo on it is 86-89, and the movement profile is… on a good day, it's anywhere from zero to five vert, and I can get anywhere from 15 to 20 inches of arm-side run. I think the biggest thing with my changeup is the difference in induced vert from the fastball. If I'm throwing my fastball at 18 inches of induced vertical break, and my changeup is at zero, that's an 18-inch difference on a pitch that looks like a fastball coming in."
Laurila: Where did you learn your changeup grip?
Jobe: "My pitching coach from back home in Oklahoma City originally showed me the grip. His name is Alex Marney. From there, I tinkered with a few things throughout the season, trying to find different stuff that made me more comfortable with it."
Laurila: You mentioned possibly adding a fourth pitch.
Jobe: "Yes. I expect that I'll start working on something when I go to instructs, probably a cutter. I think it would be beneficial for me to have an off-speed pitch that I can throw around 90. [Jacob] deGrom is throwing a slider at 93-94. It doesn't have 20 inches of horizontal movement, but it's arguably the best pitch in baseball because he can throw it hard and it looks exactly like his fastball until the last second. Dylan Cease does the same thing with his slider. He's not getting a ridiculous amount of movement, but it's sharp and tight at 90 mph. I'm hoping to develop a pitch like that. I'm hoping to get better as a pitcher."