Amy Williams heads into her sixth season with a Nebraska women's basketball roster flush with returning faces. After a "great" first practice Monday, Williams expressed clear excitement about the team's potential Tuesday at Memorial Stadium.
Nebraska went 24-9 last season and reached the NCAA Tournament, which was a big step for the program. But at the same time, it's a new year, dropping last season into the rearview mirror.
"We feel like at this point in time we're really not going to rest on anything that has happened in the past," Williams said.
The Huskers did suffer a preseason blow when all-Big Ten guard Sam Haiby suffered a knee injury during a recent practice, which required season-ending surgery. Haiby ranks eighth and 15th in program history in assists and points, respectively.
Now the Huskers will be forced to replace 117 games worth of experience. But, in a way, Williams says it's motivated the team.
"We were all just completely heartbroken for Sam," Williams said. "But the way that our team has really embraced that — it's almost like there's a little pep in their step because they've just talked long and hard about what Sam Haiby has done for this program and the way that she has completely elevated our program.
"They feel like we absolutely owe it to her to find ways to just continue to raise the bar for our program and they are really excited to play hard and come together kind of in her honor."
So where to next? Make no mistake, Haiby's presence will still be felt. Williams said the fifth-year guard's voice is still one of the loudest in the locker room. Especially from a leadership standpoint.
But there's a void to be filled on the court.
"We know that it's not going to be one player coming in to step in and take her place," Williams said. "But it's going to be contributions from our entire roster and everybody having to elevate their game. And we're really still kind of making those determinations."
With more than a month left before NU's season opener — Nov. 7 against Omaha — there's still time to figure out the rotation. Jaz Shelley, Allison Weidner and South Dakota transfer Maddie Krull will all see more responsibility.
And the Huskers will need contributions off the bench.
But a similar season from Shelley could especially help ease the blow. The second-team All-Big Ten selection led Nebraska in points, assists, steals and blocks last season. And Shelley ultimately took over the point guard position and ran with it.
"I just want to see more of the same," Williams said. "She was really a catalyst that made a lot of things happen for us one year ago. So if we can continue to have her bringing those things to the table, she makes everybody on the floor better."
Shelley played alongside Haiby for most of last season and their play went hand-in-hand. Williams said Shelley will likely now have the ball in her hands more this season. And she'll also have to take on more of a leadership role.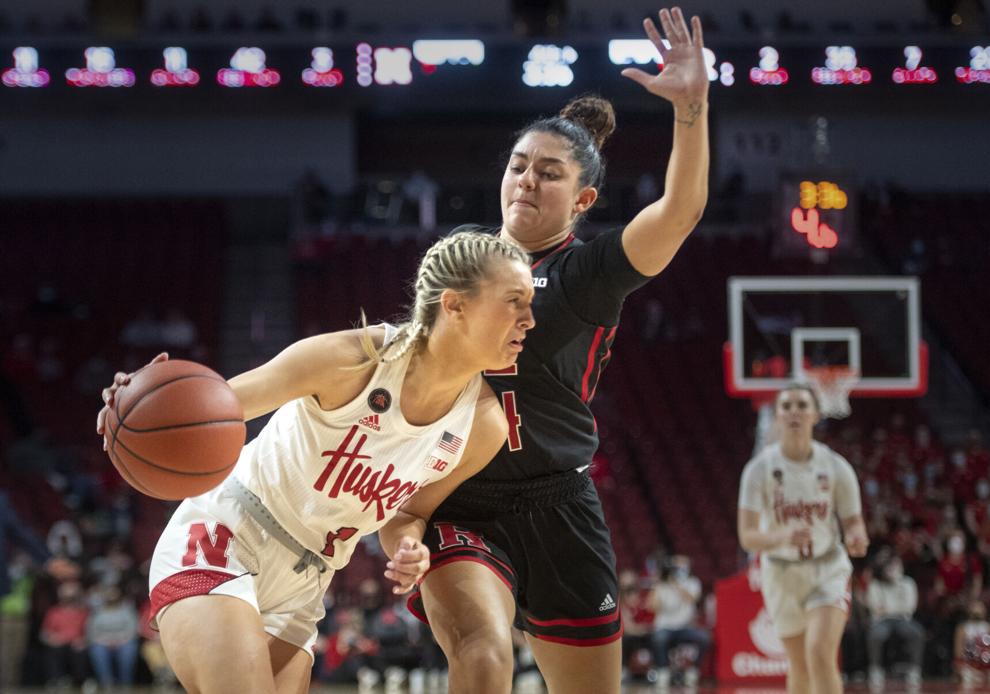 "She's more than capable of being that floor general and really kind of the coach on the floor," she said. "And I think now that she understands our system and what we're trying to do, she's just such a high IQ basketball player.
"And I think her being able to take over some reins and really knowing what play calls to make in the heat of the moment and things like that will be awesome."
Time will tell what NU will look like without Haiby this season. But with the season right around the corner, the Huskers are focused on what they can control.
"The biggest focus for our program right now is just continuing to have joy playing with and for each other," Williams said. "And just competing. Getting after it and understanding and knowing that we got a little better today.
"We have some telescope goals that are down there that we really want to accomplish for this group and raise the bar for our program. But if we can just keep our focus on the microscope and what's here today, and what we need to do to get a little bit better — then we're heading in the right direction."
More notes
* Besides Haiby, Williams announced Tuesday morning everyone is a full-go for practice. That includes sophomore Nailah Dillard, who is yet to play in a Husker uniform, and junior Trinity Brady. This will be Brady's fourth year in the program, but the junior has played in just two games since her freshman year.
* Freshman Maggie Mendelson will join the program at the conclusion of the volleyball season. Mendelson "learned the basic" systems and schemes during the summer.
* Williams wasn't sure what Haiby's future on the court looks like at Nebraska. She could be eligible for a sixth year of eligibility. "She really wanted to play with this team, this year," Williams said. "So we're just giving her some time to really emotionally come to grips with the fact that she won't be on the court with us this season and some time to really process what her future holds."
* Williams also mentioned Alexis Markowski, the reigning Big Ten Freshman of the Year, has specifically focused on her footwork and perimeter game this summer. "She's motivated and driven," Williams said. "She wants to finish at a higher clip and higher percentage, and she's worked incredibly hard to do that."