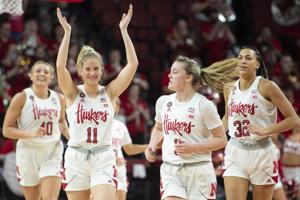 The Nebraska women's basketball team will face an old foe in its regular-season nonconference finale.
The Huskers will host Kansas on Dec. 21 in a matchup of two NCAA Tournament teams. It will mark the Jayhawks' second trip to Lincoln since Nebraska left the Big 12 Conference following the 2010-11 season.
The Huskers defeated Kansas 58-52 in 2018.
Kansas is coming off a 21-10 season that included an 11-7 Big 12 mark and culminated with a trip to the second round of the NCAA Tournament. The Jayhawks knocked off Georgia Tech in the opening round at Stanford before falling to the Cardinal in the second round.
Dates for Nebraska's remaining nonconference home games will be announced in the coming days.