We're almost to the most wonderful time of the year. No, I'm not talking about winter. I'm talking about crossover season when football, volleyball and basketball are all up and running at the same time. 
Tuesday marked the first media marathon of the fall slate, as women's basketball coach Amy Williams, volleyball coach John Cook, interim football coach Mickey Joseph (along with four football players) and men's basketball coach Fred Hoiberg (along with two basketball players) addressed the media. 
The men's and women's basketball teams opened up practice this week ahead of Friday's Opening Night, football returns to action against Indiana on Saturday and the volleyball team hits the road for the first time in conference play.
Here are my four takeaways regarding all four sports.
1. Defensive changes
Joseph fired defensive coordinator Erik Chinander less than two weeks ago, and the domino effect from that has continued to unfold with Bill Busch leading the charge.
Some things have been eliminated, which helps simplify what the defense is asked to do. That makes it easier to focus on the small things, like getting their "feet set in the ground and just be ready to play," safety Marques Buford said.
Interestingly, the terminology has changed, too, defensive tackle Colton Feist said.
"When he stepped into that role, he obviously had some different words for us, different style of defense," Feist said. "We're gonna change some things up, and then we did a few different things in practice."
After getting the new terminology last week during the bye week, those "different words" were installed during Tuesday's practice, Feist said, calling the language change "one of our major emphases over the bye week."
2. Injury updates
Football: Offensive lineman Kevin Williams Jr. will be out for two to three weeks with a high ankle sprain, Joseph said. In the interim, Ethan Piper will get the start at left guard. Before Williams' injury, the two split reps at the left guard spot.
In positive injury news, punter Brian Buschini said he's good to go this week after sustaining an ankle injury against the Sooners. Buschini punted through it that week but was visibly limping every time he went onto the field.
Volleyball: Senior Nicklin Hames hasn't practiced since she left midway through Nebraska's match against Stanford with a back injury two weeks ago, but she did test the waters on Monday with some exercises with the team's strength coach.
Men's basketball: Guard Quaran McPherson had surgery last week on his knee and is expected to make a full recovery, Hoiberg said. McPherson, who sustained the basketball-related injury over the summer, has a long road ahead in his recovery, but Hoiberg is optimistic about his future.
Guard Sam Griesel has been on a load restriction since the start of fall sessions, but lately the former Lincoln East standout has been making it through the majority of practices and is full contact, Hoiberg said.
Forward Wilhelm Breidenbach no longer has any restrictions as it pertains to his knee, both he and Hoiberg said. Breidenbach said he's felt fully healthy for a while now.
Women's basketball: Senior guard Sam Haiby is out for the rest of the season after she sustained a basketball-related knee injury last week, Williams said. She will need surgery but has not yet done so.
Even though Haiby won't suit up this season, Williams has said Haiby's contributions will be felt in other ways.
"She remains an incredible leader for our program," Williams said. "Yesterday, we were having a little team meeting before our first practice and Sam's voice was one of the loudest in the room."
The 2022-23 campaign would have been Haiby's fifth season. When asked if Haiby could return for 2023-24, Williams said the team is giving Haiby time to process the initial shock of the injury.
"In her individual case, she really wanted to play with this team and this year," Williams said. "So just giving her some time to emotionally come to grips with the fact that she won't be on the court with us this season and some time to really process what her future holds."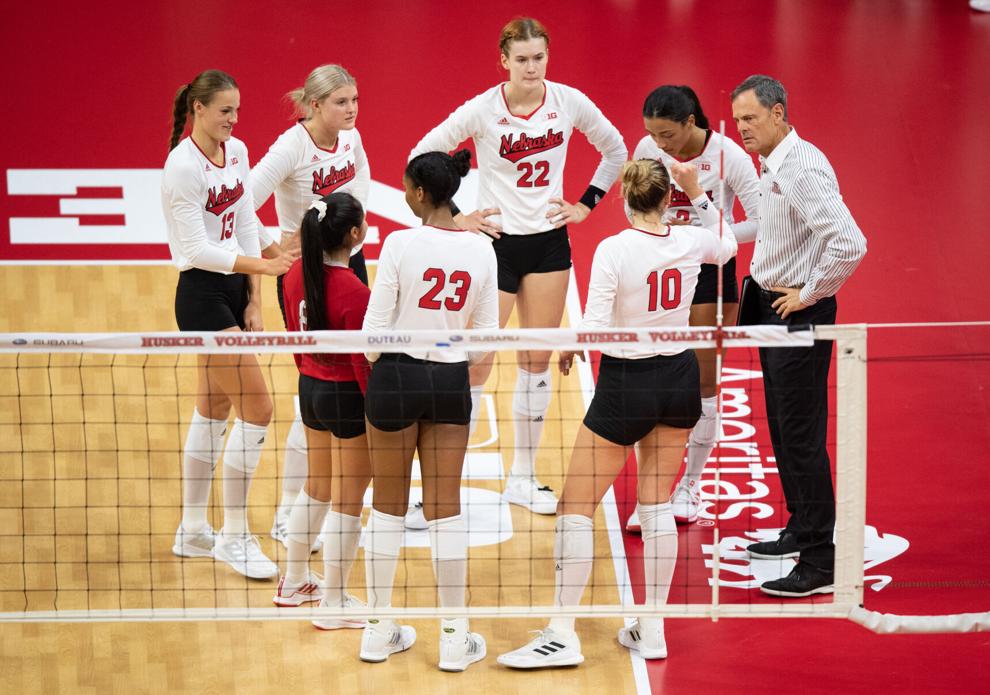 3. Road trips on deck for volleyball
No. 3 Nebraska volleyball has only left the friendly confines of the Cornhusker state just once so far this season — last week against Kentucky.
They don't play another game inside the Devaney Sports Center until Oct. 14 with two away weekends in a row coming up.
This weekend, they play at Rutgers on Friday and then at Maryland on Sunday. The following weekend, they'll be in Michigan. They first play Michigan State in East Lansing on Oct. 6, and then travel to Ann Arbor to face Michigan on Oct. 8.
The split schedule, Cook said, "is a big challenge" as it pertains to balancing school and being away from Lincoln.
"What I've learned in the first week in the Big Ten, and nationally, is there is a lot of teams that can beat a lot of teams," Cook said. "Our theme right now — it's really, really important — is that it doesn't matter who you're playing, what their record is, we got to bring our A game. And we got to go in super-prepared. That's what we're focused on right now."
When asked if he prefers back-to-backs (like Nebraska did this weekend by playing Friday/Saturday) or the split-schedule (with a day in between like the next two weekends), Cook said he didn't know.
Some pros to the split-schedule, Cook said, is that it gives NU more time to prepare for the second game and gives the team an extra day to rest.
Some cons to the split-schedule: It makes for a longer road trip. And it gives NU a short week to prepare for the following weekend's slate of games.
"From a coach's perspective, I like it, but it's a lot of time sitting in the hotel and sitting around, so we have to see," Cook said. "We haven't done this before."
The reasons why Nebraska plays the split/schedule for the next two weeks can be traced to two specific things, Cook said.
Maryland has a home football game Saturday, and unlike the Huskers, the Terrapins avoid playing home volleyball games on the same day as home football games.
As far as the match at Michigan State is concerned, MSU's volleyball team shares its home arena with the Spartan basketball teams, so scheduling quirks pop up from time to time. That's the reason for the Thursday match next week in East Lansing. Michigan State's version of Opening Night is Oct. 7.
4. Football reset
The first four weeks of this season have been grueling for the football team, both physically and mentally.
An international trip with a close loss to Northwestern. A track meet of a football game in a loss against Georgia Southern. Head coach fired. A blowout loss to Oklahoma. Defensive coordinator fired. Plenty of guys playing every (or close to every) snap.
So, while there are plenty of adjustments to be made, the coaching staff found a balance with practicing and giving the team some much-needed time away from the facility.
The team had Thursday, Friday and Saturday off before they reported back on Sunday.
"It was great," Buford said. "Football is a lot mentally and your body needs time to rest, so those few days definitely did a great number for a lot of the guys who have been getting a lot of reps."
The mentality as Nebraska moves ahead into the rest of the Big Ten schedule, Joseph said, is to reset, refocus and improve.
"As we get back into Big Ten play, our kids have to look at this as a fresh start," Joseph said.
Photos: No. 3 Nebraska takes on No. 7 Ohio State in Big Ten showdown