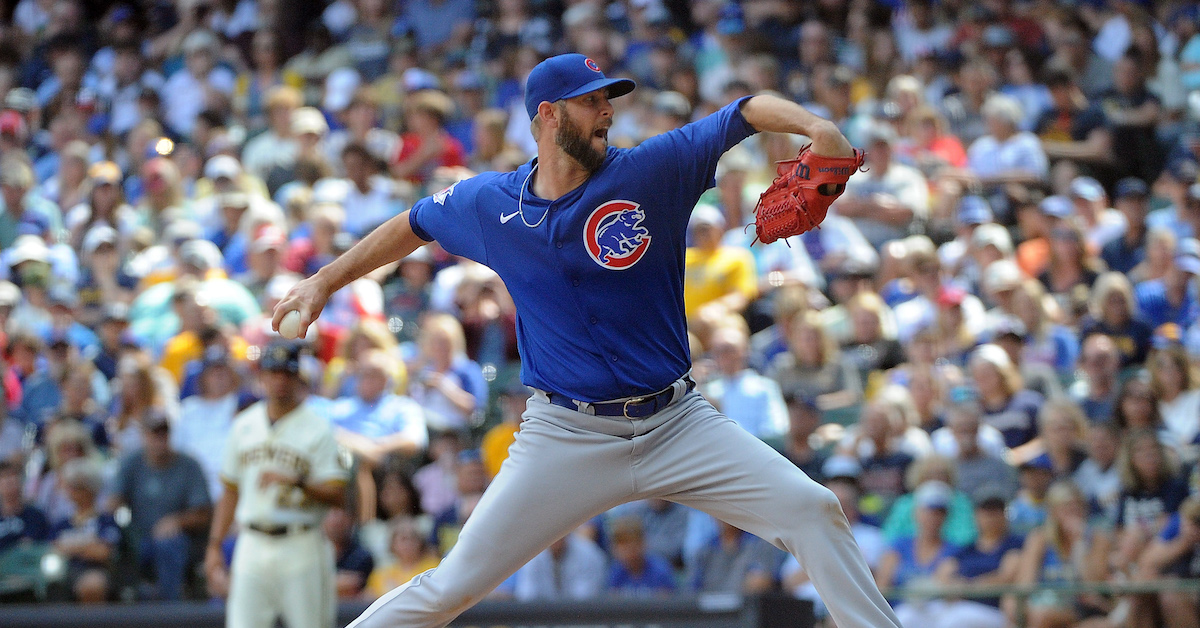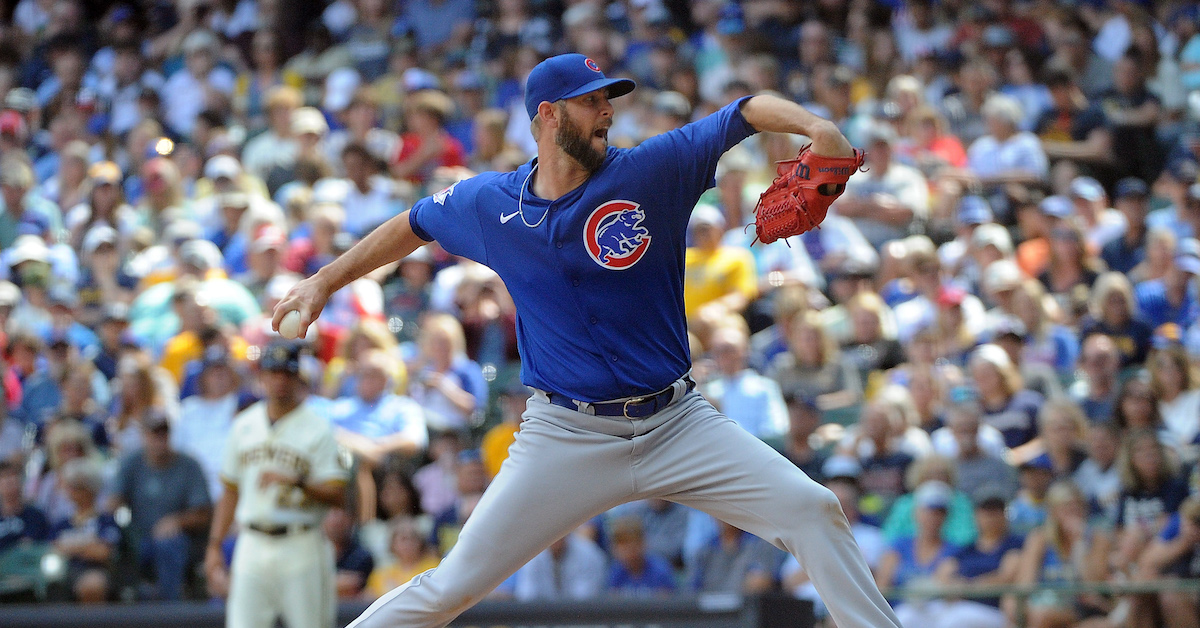 On Saturday, the Dodgers acquired steady 36-year-old reliever Chris Martin from the Cubs in exchange for utilityman Zach McKinstry, who has spent most of the season at Triple-A Oklahoma City.
This is Martin's seventh major league organization (Red Sox, Rockies, Yankees, Rangers, Braves, Cubs, Dodgers), but his journey has been even more winding and complex than that. Martin was a draft-and-follow by the Rockies in 2005 but blew out his shoulder during his sophomore year at McLennan Junior College in Texas and needed labrum surgery, so he went unsigned. He was again passed over in the 2006 draft and spent parts of four years in Independent Ball before signing with the Red Sox. He was traded to the Rockies as the secondary piece in a deal for Jonathan Herrera (Franklin Morales was the headline prospect), and then was traded to the Yankees for cash not long after that. He threw 20 innings for the Yankees before spending two seasons in Japan with Hokkaido. There, Martin learned a splitter from a then 21-year-old Shohei Ohtani before returning to MLB with Texas. He was a Braves deadline acquisition in 2019, and was with Atlanta in '20 and '21 before signing with the Cubs this past winter.
Martin's carrying tool is his command, which is among the best in all of baseball. He has the third-lowest walk rate among qualified relievers since he debuted in 2014 at a paltry 3.5%. In addition to having elite control, Martin has posted the best K/9 of his career this season (11.49), nearly double his rate last season with Atlanta. The same is true of his fastball's swinging strike rate (16%, up from 8%, though this number has fluctuated throughout Martin's career), which seems to be because his fastball locations have migrated north, especially against righties: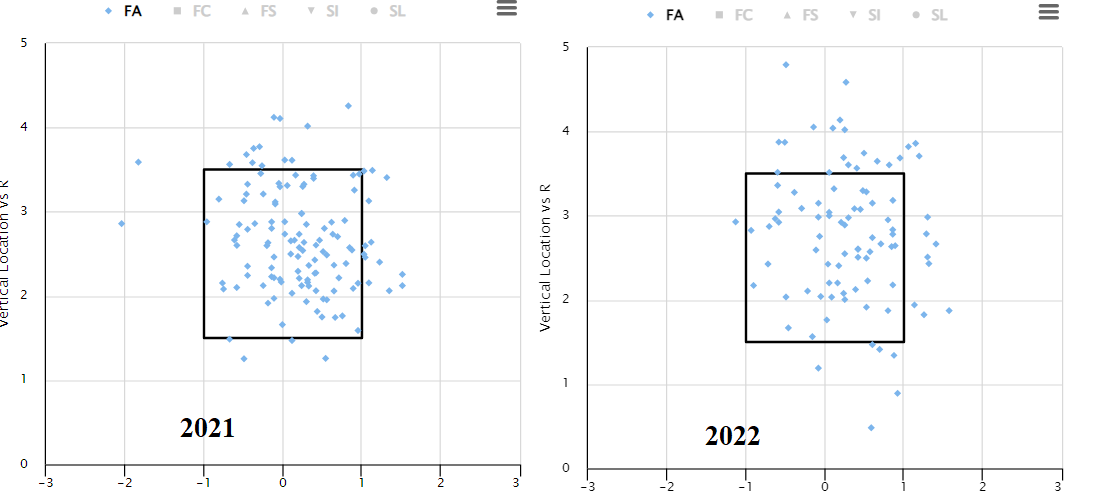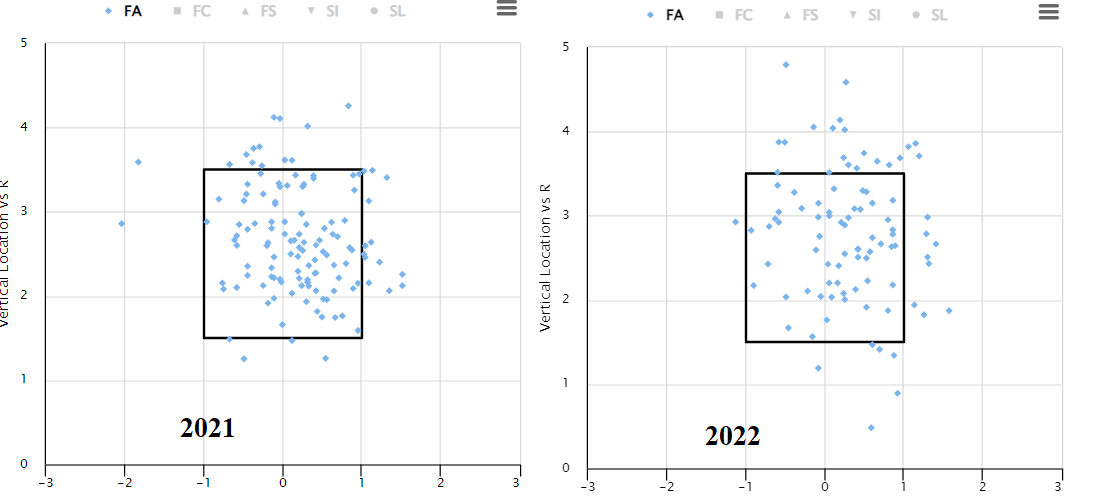 Chris Martin 2021 and '22 Fastball Locations vs. RHH.
Martin's cutter usage has also increased this year, while his splitter usage has dipped. His scouting report still reads more like that of a kitchen sink starter than a robotically consistent reliever: Martin can sink or cut his fastball, he can manipulate various breaking ball shapes (he may have a distinct curveball and slider again for the first time in several years), and he goes right at everyone he faces. His fastball velocity has shown a slight upward trajectory each of the last two years but was down in his two outings after the All-Star break. As much as anyone can say they know what they're getting from a deadline acquisition, the Dodgers know they're getting a well-traveled middle reliever with uncommon experience and elite consistency. He'll likely be the Dodgers' fourth or fifth bullpen banana down the stretch and in the postseason.
To get Martin, the Dodgers gave up utilityman Zach McKinstry, a strong upper-level performer who would be a key multi-positional piece for most big league teams, but who has struggled to find playing time with the loaded Dodgers, blocked by the combination of The Turners, Gavin Lux, and Max Muncy. McKinstry (who was a 45 FV prospect and projected as a super utility type) has spent parts of the last three minor league seasons at Triple-A Oklahoma City, where he has slashed a combined .323/.401/.550 while playing all over the field. Some of that offensive output is inflated by the hitter-friendly nature of many Pacific Coast League ballparks, as McKinstry has below-average bat speed and power. He can ambush the occasional inner-third pitch and yank out a homer to his pull-side, but mostly he moves the barrel around the zone and makes softer, opposite-field contact that results in doubles and triples when the baseball finds the gap. It's a contact-driven, low-impact offensive profile.
Most of McKinstry's impact will come from his defensive versatility. He's quite good at second base and in the outfield corners, but he can also play a serviceable third base and even shortstop in a pinch. A lefty-hitting Swiss Army knife like McKinstry fits beautifully with the spirited, righty-hitting Christopher Morel, as those two will enable the Cubs to play seamless in-game matchups all over the diamond.
The trade seems like a good fit for both teams. There's no immediate 40-man impact to either club (both Martin and McKinstry are already on the 40), but it adds to Chicago's little postseason crunch by adding another long-term 40-man piece, while it subtracts from Los Angeles' since Martin will be a free agent after the season, joining the dozen or so players set to become part of the Dodgers diaspora.