"Dørmåtten" ved døren til terrassen hos kæresten.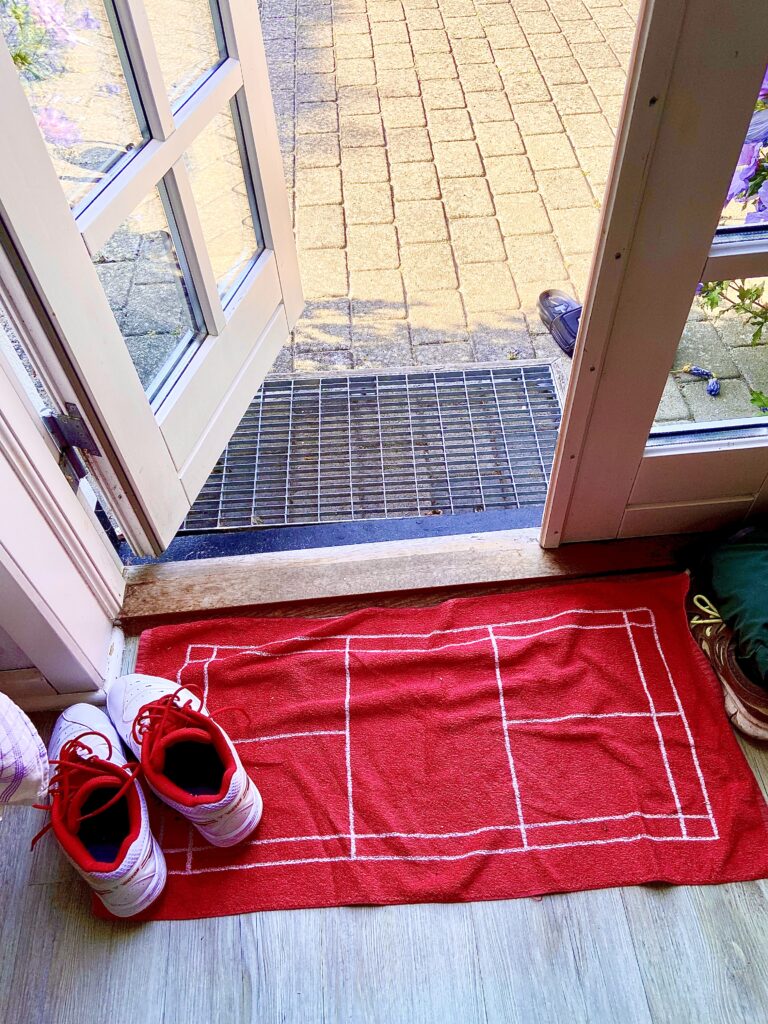 Helligbrøde?
Eller også en forstående kvinde med en yngste søn, der nu både spiller fodbold (med sin biologiske far som træner) og badminton (i min klub), og en badmintontosset kæreste.
I går var vi to mænd sammen til den første seniortræning efter sommerferien. Han debuterede på træningen. For mig var det vel fyrretyvende gang.
Alder er ligegyldigt, så længe glæden er den samme……og det er den!
Den unge mand kommer fra en holdsport, hvor alle naturligt går i bad efter kampen, og hvor den enkelte spiller kan "skjule" sig lidt på banen og blive "reddet" af sit hold, til en langt mere individuel sport, hvor spotlightet og ansvaret hviler på én selv, eller højst to!
Du kan ikke skjule dig på en badmintonbane. Laver du fejl, eller er du ikke god nok, bliver det eksponeret foran alle – og rammer nok noget dybere i en selv. På badmintonbanen skal du helt selv tænke og analysere og finde løsningerne og gennemgå kriserne og fastholde temperamentet – helst. Men kan også tildele dig selv al hæder ved sejr!
Hans badminton har, tolker jeg, influeret positivt på fodboldspillet, hvor han nu tager langt mere ansvar og er blevet en af frontfigurerne.
Og han begynder også at virke mere selvstændig – og provokerende på badmintonbanen, når vi spiller mod hinanden. Absolut et udviklingstegn. Også det med det provokerende! Han lader sig ikke længere kyse af den gamle mand på den anden side, men kigger mig nu øjnene og giver igen, også mundtligt. Det er genialt. Sikke en personlig udvikling i løbet af 3-4 år. Nok det bedste af det hele!
Unge kan med fordel dyrke flere sportsgrene og lære forskellige ting, der kan bruges i andre sammenhænge – det er voksensnak! Han skal jo bare have det sjovt og give den max gas.
Hallen var varm i går aftes. Vi gættede på hjemturen på 27-28 grader og høj fugtighed.
Nogenlunde de samme forhold, VM-spillerne forbereder sig under og på frem til den 21.-27. august i Tokyos varme. Udover et voldsomt sansebombardement af indtryk og mennesker i denne 40 millioner megaby, i et land, jeg ofte kalder "Omvendtslandet"…….Japanere og deres kultur er bare så anderledes på så mange områder, at man konstant udfordres på sin forståelse, sine vaner.
Senere i dag kører omtalte to mænd og to andre unge ind til NETC og ser verdensklasse badminton. Helt gratis.
Badmintonbladet / Per Damkjær Juhl