…..en personlig reportage fra EM for veteraner i Ljubljana 
Set fra perspektiv Lars Rüsz Kaysen, NBK Amager, EM-debutant  
Først lidt om forholdene
Som I måske har kunne følge de seneste dage, har der siden søndag været EM for veteraner i Ljubljana og ligesom til alle større events er det en kæmpe arena, hvor der er opsat 12 baner. 
Der har siden i søndags været en hel del vind, og denne vind kan sagtens skifte fra bane til bane – også i retning, dvs. sidevind og med/modvind. Man kan ikke regne med at vinden er den samme om formiddagen som om eftermiddagen, dette er selvfølgelig lige for alle det kræver dog lidt mere fokus at finde ud af hvordan vinden er på netop den tildelte bane. 
Boldene har været rigtig gode synes jeg, de holder lang tid, til tider har der været lidt ufdordringer med at finde bagbanen, men det er ikke anderledes end hjemme i DK.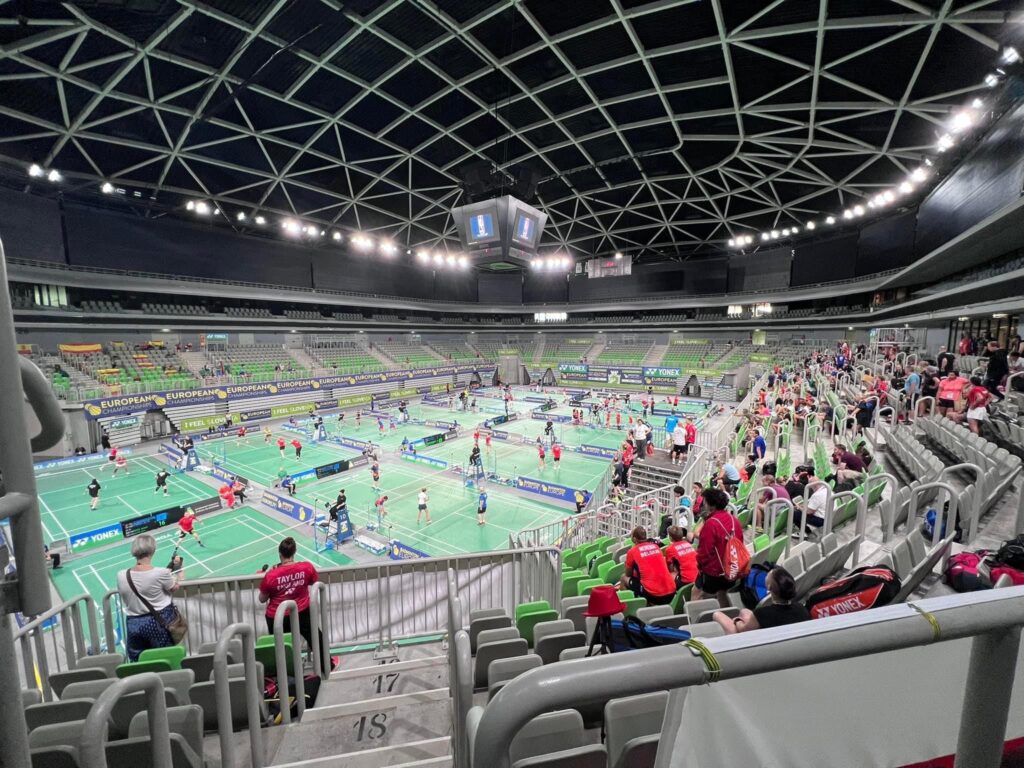 Linjedommerne har ikke været specielt gode undervejs, mange mærkelig kald og generel usikkerhed. Det skaber frustration for de fleste, både danskere og modstandere. Jeg vil skyde linjedommerne til at være i alderen 9-50, så aldersforskellen er stor. For mit personlige vedkommende har jeg været heldige at have flere kendelser, der gik min vej, og dette affødte meget frustrerede modstandere undervejs. Personligt synes jeg, det en stor indsats de laver, og jeg spurgte én af dem hvor mange kampe han havde været på linjerne og han fortalte mig at det var hans 16., og det var vist tidlig aften jeg spillede den kamp. 
Det er vigtigt for mig, at huske at sige tak for deres indsats efter hver kamp, også selvom det måske kun er en 8 årig pige der sidder og har ansvaret for et par linjer. Det kan være en utaknemmelig opgave at skulle være skarp når der er voksne spillere der virkeligt går op i det. 
Ift transport til og fra hallen, har det fungeret nogenlunde. Vi kører gratis med busser i byen, nogen bor tættere på arenaen end andre og kan gå til/fra kampene, andre skal navigere i det netværk af busser, som virker en smule uoverskueligt. 
Der er super mange spillere fra især Tyskland, Sverige, England og Spanien, men nogle af de bedste til at skabe stemning er polakker, franskmænd, tyskere og litauenske spillere. 
Der bliver klappet, når de lange tætte kampe slutter, og jeg synes generelt der er ret god stemning spillerne imellem. Ikke alt for mange sure miner, måske er der nogen der ikke lever op til egne forventninger og det er vel også ok, hvis nu målsætningerne var høje. 
Hvilket leder mig til…….
                                            ▪️
De sportslige resultater
Som nævnt er jeg med som debutant og det har været en kæmpe oplevelse. 
Desværre sluttede det for mig i morges med et nederlag i 1/8 i mix til et solidt tyskpar, det vist nok fik bronze ved VM i Huelva i 21. Et ganske godt resultat som jeg godt kan være tilfreds med, da jeg ingen særlige forventninger havde til min polske x-makker (Monika Kowalchyk) og mine chancer, vi ender med at tabe 24-22 og 21-16, desværre fik vi ikke snørret posen i første sæt, selvom vi havde 3 sætbolde, og jeg brænder en kæææmpe chance fra forbanen ved 21-20, den største "direktør" jeg længe har set.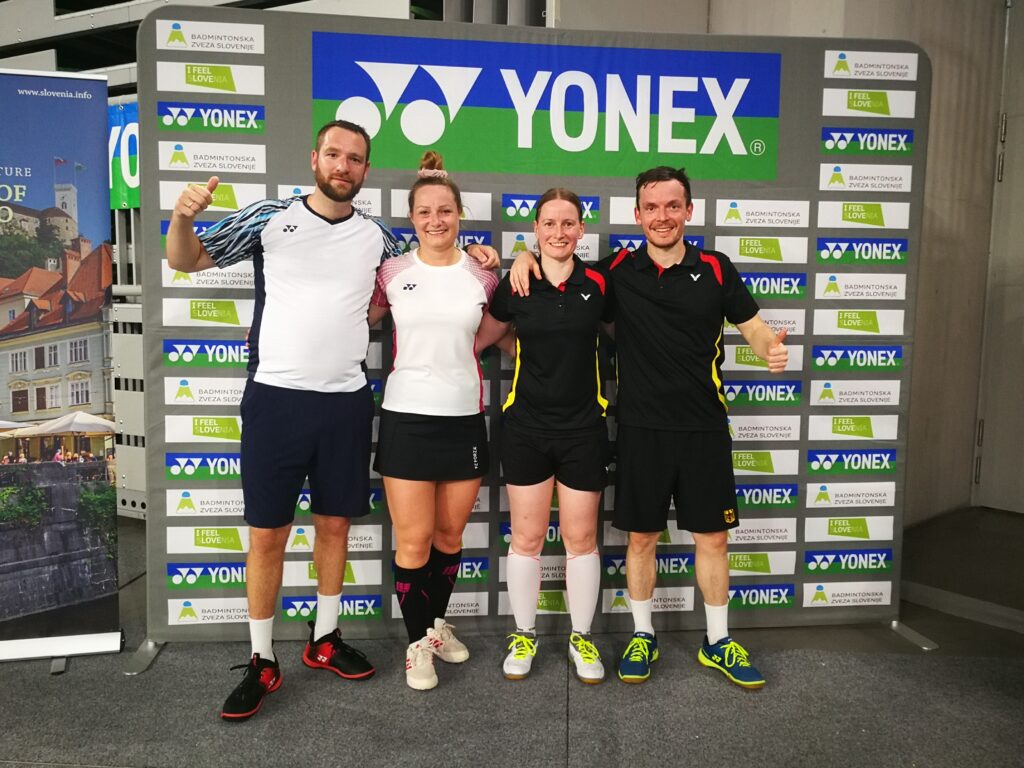 Double var jeg også med x-makker (Dominik Kronsteiner, Østrig), hvilket var rigtig sjovt, desværre var vi meget usikre på hinanden til at starte med og vi kunne ikke lige få styr på vores engelske modstandere, så der tabte vi i første runde, ærgerligt, men vi hyggede os virkeligt meget sammen efterfølgende. Det var et godt bekendtskab og hvem ved om det kan fortsætte til andre turneringer? Jeg var sammen med Dominiks gruppe af flere omgange, og det var lige netop disse typer som passede rigtigt godt til mig, så kæmpe oplevelse at være sammen med dem 🙂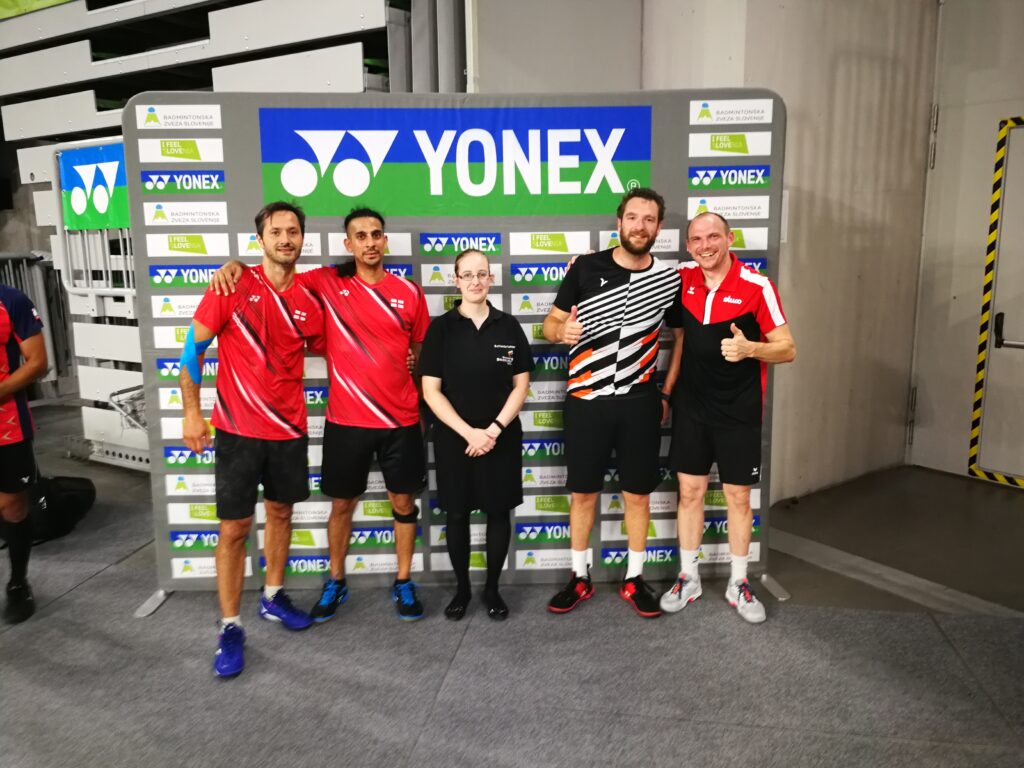 Single var på forhånd der jeg tænkte det kunne blive rigtigt interessant, men jeg rendte ind i den 3/4 seeded svensker i anden runde, hvilket var en lang kamp, og jeg formår ikke at være cool nok på de afgørende tidspunkter. Taber med 21-16 og 21-19 i en velspillet kamp, og hvis jeg kunne have prioriteret min egen træning lidt mere inden, mon ikke jeg kunne have stjålet et sæt fra ham, og så ved man aldrig hvad der kan ske i det afgørende sæt i sådanne en kæmpe hal.
Alt i alt har der været mange spændende oplevelser forbundet med at spille kompetetive kampe i en kæmpe arena der bl.a. bruges til baskeball, koncerter og lignende. Det er bestemt anderledes end at spille i DK i vores normalt ret gode badmintonhaller. Jeg er glad for at havde været med, og fået en masse nye bekendtskaber og oplevelser. 
Når den almindelige træning starter meget snart, er det rart at vide jeg stadig kan blive markant bedre til mange facetter af spillet, og jeg glæder mig allerede til at komme i hallen og træne mine offensive slag, det er der brug for på dette niveau. 
Jeg synes ikke, at jeg er faldet igennem og jeg mener godt, jeg kan være med hvor det er rigtigt sjovt, hvis lodtrækningen er med mig næste gang. 
Målsætningen har ikke ændret sig frem mod den næste store internationale veteranstævne: Semifinale-plads og dermed medaljer.
Lars Rüsz Kaysen
NBK Amager