Debbie Lynch skriver….
"It has taken me some time to think about how I should write this…
…..in 2010 I noticed that the amount of girls playing our sport here in Denmark was slowly going down…not just in the clubs but also at tournament levels ….
I have tried with many good trainer comrades to stop this downward spiral but when I see the amount of tournament-girls especially in U11 and U13 now it makes me very sad….yes there is a lot of talk about the presentation culture, girls only training, many fine ideas about women and girl coaches but the trend in player participation is still downwards……
The fewer the players, the less sparring at tournaments. This has become very obvious now. No large groups to play against will with no doubt affect long term development and have very big consequences for our national team in the future…..
What I feel we need and this is my own opinion are many more competent and educational (pædagogiske, red.) trainers both men and women who are willing to offer time and patience in the halls with the youngest generations as they enter the clubs for the first time.
To use more time than the alotted training times, come early, chat with the kids about their day and badminton, show an interest in them, do not just come and go…
….of course there should be development on the court but also that they feel a trainer is  there for them during tougher times on and off the court… build up a young trainer team around the trainer…..it should be an honour to help …one generation helps the next.
Internal club trainer education with trainer sparring…..makes for a super good trainings enviroment.
Lets make badminton great again!
Yes I agree!
But it will take a huge effort for change…talk is cheap, we need concrete actions and it starts right now…..I am super positive that it can be done but it is going to take time and a big amount of effort. 
                                            ▪️
And a bit more 😃
As many know I have also travelled around over the last two years working on coach educaton…I have met many fantastic trainers who work hard in their clubs but need help and inspiration for their daily trainings.  
I could wish that the coach education system could move with the times…more shorter spot courses, more shorter inspiration courses, not all day coures. 3 – 4 hours at a time is just perfect. That is what I feel is needed. 
Times have changed and we need to move with it!
Make badminton great again
All the best
Debbie Lynch"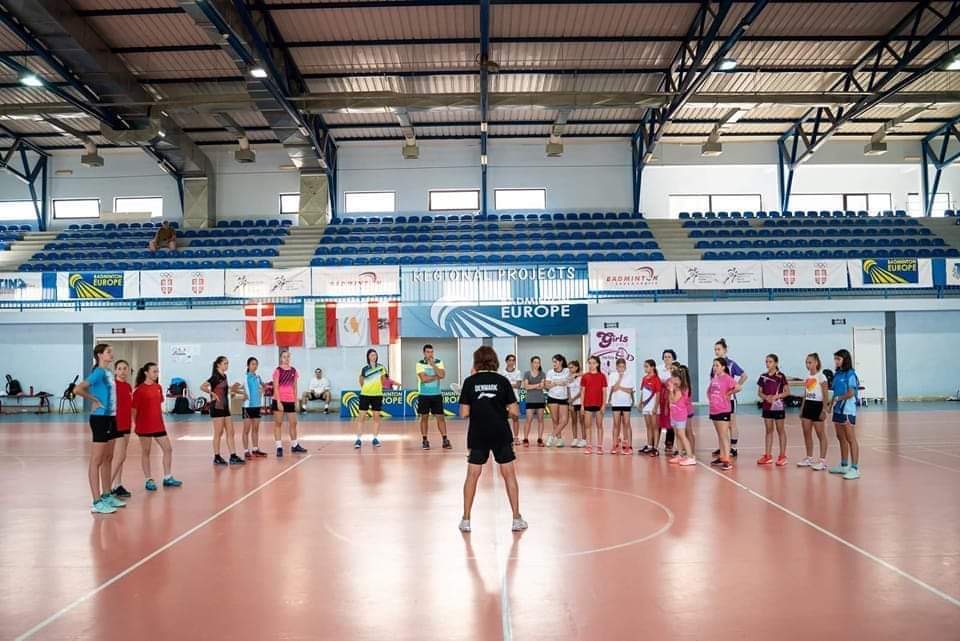 Debbie Lynch skriver….
 "Det har taget mig noget tid at tænke over, hvordan jeg skulle skrive dette…
 …..i 2010 lagde jeg mærke til, at antallet af piger, der dyrkede vores sport her i Danmark, langsomt faldt…ikke kun i klubberne, men også på turneringsniveau.
Jeg har sammen med mange gode trænerkammerater forsøgt at stoppe denne nedadgående spiral, men når jeg ser mængden af ​​turneringspiger, især i U11 og U13 nu, gør det mig meget ked af det….ja, der er meget snak om præsentationskulturen, træning kun for piger, mange fine ideer om kvinder og pigetrænere, men tendensen i spillerdeltagelse er stadig nedadgående……
Jo færre spillere, jo mindre sparring ved turneringer. Dette er blevet meget tydeligt nu.  Ingen store grupper at spille mod vil uden tvivl påvirke den langsigtede udvikling og have meget store konsekvenser for vores landshold i fremtiden…..
Det, jeg føler, vi har brug for, og det er min egen mening, er mange flere kompetente og pædagogiske trænere, både mænd og kvinder, der er villige til at tilbyde tid og tålmodighed i hallerne med de yngste generationer, når de kommer ind i klubberne for første gang.
For at bruge mere tid end de tildelte træningstider – kom tidligt, snak med børnene om deres dag og deres badminton, vis interesse for dem, ikke bare kom og gå…
….selvfølgelig skal der være udvikling på banen, men også at de føler, at en træner er der for dem i sværere tider på og uden for banen… opbygge et ungt trænerteam omkring træneren…..det bør være  en ære at hjælpe … en generation hjælper den næste.
Intern klubtræneruddannelse med trænersparring…..skaber et super godt træningsmiljø.
Lad os Make Badminton Great Again 
Ja jeg er enig!
Men det vil kræve en kæmpe indsats for forandring…snak er billigt, vi har brug for konkrete handlinger og det starter lige nu…..Jeg er meget sikker på, at det kan lade sig gøre, men det kommer til at tage tid og en kæmpe indsats.
                                             ▪️
 ……Og lidt mere 😃
Som mange ved, har jeg også rejst rundt i løbet af de sidste to år og arbejdet med træneruddannelse…
Jeg har mødt mange fantastiske trænere, der arbejder hårdt i deres klubber, men har brug for hjælp og inspiration til deres daglige træning.
Jeg kunne ønske, at træneruddannelsessystemet kunne flytte med tiden.…..flere kortere spotkurser, flere kortere inspirationsforløb, ikke heldagskurser.  
3 – 4 timer ad gangen er bare perfekt. Det er det, jeg føler, der er brug for.
Tiderne har ændret sig, og vi er nødt til at følge med!
Make Badminton Great Again 
All the best
Debbie Lynch"