Open Singles at the Classic Hardbat World Championships:
Can the Butler Do It Against The Flash?
By Larry Hodges (photo by Larry Hodges)
Before we get to the final and biggest event of the tournament, a great thanks goes to the many people who helped run it. Many, including sponsors, are thanked in the Interview with Steve Claflin. Steve, the tournament director, was the driving force behind the tournament (and in getting 42 sponsors) and so a huge thanks goes to him. The tournament started on time and ended early! The new AMIBO software system literally ran the tournament, and so Steve was able to even play in the tournament. (AMIBO was created by Stan Pennington from We R Table Tennis, along with Steve Claflin and Igor Negovitic.) When asked who ran the tournament, Steve would say, "Nobody – AMIBO ran it!" 

(There will likely be a separate article later on AMIBO.)

 Others who helped with the tournament include Referee Ning Cheng; Dan Hassan and Al Mohamed livestreamed; Conrado Garza videoed; and Jack McCarthy invented Live TT Scoreboard for the streaming. Butterfly helped promote the tournament – they posted on their news page all nine articles I wrote on the tournament, ending with this one. Missouri City was also a big help – and, in fact, Mayor Robin J. Elackatt attended and gave a speech.  
Early Rounds 
Most of the matches in the preliminaries and early rounds go as expected. The big exception was junior star Bryce Milford. In his RR group he upset the top two seeds, George Guo and Joseph Cochrane (from down 0-2 in games) to advance. He'd lost to Guo 0-3 the previous day in Teams but won 3-0 this time.  
QUARTERFINALS 
Alexandru Cazacu (ROM) vs. Bryce Milford (USA) 
Could Bryce pull off another upset? He wins the first 11-8, and now everyone's watching that match. But Alex wins the next two and leads 10-7 match point. He serves off (10-8) and calls a timeout. They have another good rally, the Bryce suddenly chop blocks, catching Alex off guard, and he misses, and it's 10-9. Alex is a ferocious attacker, and under pressure, he did what ferocious hitters do: he forehand smacked in Bryce's next serve to win the match, -8,8,4,9.  
Jimmy Butler (USA) vs. Vlad Farcas (ROM/USA) 
Vlad did beat Jimmy at the US Open once – in the sandpaper event. But nobody's beaten Jimmy in hardbat since he was chopped down by Steve Berger at the 1999 US Nationals – 23 years ago! They have a lot of nice points, and I'm pretty sure Vlad was joking when he muttered, after missing a shot after a long rally, "I'm going to break this paddle." Match to Jimmy, 7,7,8.  
George Guo (USA) vs. AJ Carney (USA) 
After losing the first two, George suddenly dominates with his penhold hitting and blocking, winning game three 11-4. But that wakes AJ up. He's won Hardbat Singles at five U.S. Opens or Nationals, and other than two losses to Jim Butler, hasn't lost a hardbat match before this tournament to anyone since 2008. (In the Teams held the day before, that streak ended when he lost to Alexandru Cazacu – but they had to send for him from Romania to do.) Match to AJ, 7,4,-4,2.  
Alexander "The Flash" Flemming vs. Randy Hou 
No matter how good Randy's rating says he is – 2269 – at age 71 (easily the best of his age in the country and the reigning US Nationals Over 70 Champion, and the Over 60 Champion here), there's no way he can challenge The Flash, right? Challenge he does. After falling behind 1-4 in the first, he goes up 7-5 and 9-7 . . . only to lose the next four in a row. The Flash is now fully awake, and it's soon over, 9,2,3.  
Semifinal #1: A.J. Carney (USA) vs. The Flash (GER) 
The first semifinal was between A.J. Carney from the Triangle Club in North Carolina, and Alexander "The Flash" Flemming from Germany, the World Ping-Pong Champion (sandpaper). Superficially, they play similar aggressive two-winged attacking games. AJ used to chop some, but now only occasionally when in trouble. AJ is a little better at ending the point early in the point, often following his serve up with a winner, and often dominates with his forehand. The Flash has a slight edge on the backhand and in long rallies.  
In game one, AJ flashes to a 4-0 lead, and then it was 4-4, 6-6, 6-8, 7-8, 7-10, 8-11. Game one to The Flash.  
In game two they battle even to 8-8, The Flash goes up 9-8, then it's 9-all. AJ serve and smashes, The Flash misses a countersmash, and AJ is up 10-9. But he hits a backhand into the net (10-all), and then, in a long rally, AJ misses a forehand, and he's down 10-11. He serve and hits an inside-out forehand to deuce it, 11-all. There followed two great rallies – but AJ finally puts a forehand and then a backhand into the net, and game two to The Flash, 13-11.  
In game three, with AJ leading 6-4, they have perhaps the point of the match with lots of forehand counter-smashing. AJ forces The Flash off the table, who makes a spectacular countersmash. AJ dead blocks a net dribbler that goes off The Flash's backhand side. The Flash – there's a reason for that nickname – is there like a flash, diving all-out on his stomach and getting his racket on the ball, but is unable to return it.  
So AJ is up 7-4 . . . and loses four in a row and calls a time-out at 7-8. Then it's 7-9, 8-9, 8-10 match point for The Flash. But AJ smashes two backhands in a row to deuce it. Then, as often seems the case, they have two incredible points right at the end, counter-hitting rallies, often counter-smashing rallies where neither can miss . . . until one does. AJ finally hits a forehand off, and Flash smacks a backhand winner, and it's an incredibly close 3-0 win for The Flash, 8,11,10.  
Semifinals #2: Jimmy Butler (USA) vs. Alexandru Cazacu (ROM) 
This match sort of started out a bit sloppy, but the points got better and better, until the point where they were almost counter-smashing routinely. It's a contrast in styles.  
Jimmy controls points with his serve, has great placement, and is super-consistent and keeps coming at you from both wings. (He's just a touch under 6'4″, so he's got a lot of reach, and covers the middle with his backhand.) He's a constant threat to backhand kill, but unlike many who force aggressive backhands (and so are more erratic), he doesn't force it, instead playing mostly steady aggressive – and then, when the shot's there, boom! He often backs up to counter, especially on the forehand, where he plays an almost looping stroke. If Jimmy has a weakness in his hardbat game, it's not having a strong finishing shot on the forehand, often playing aggressive forehands when others might smash and win the point. But while others might end the point with one forehand, he'll play aggressive, well-placed ones and take an extra shot or more to win the point – but also sometimes lets opponents back into the point.  
Alex, in contrast, is super-aggressive, especially with the forehand, looking to play forehand from anywhere at any time. Going into the match, we've seen Alex is good, but most expect Jimmy to win. Remember, he hasn't lost a hardbat match since the 1999 Nationals, 23 years ago!  
In game one, Jimmy is up 10-6. He serves fast and long to the backhand, and Alex – perhaps as fast as The Flash – steps around and forehand smashes a winner. Jimmy then serves half-long outside the backhand corner, so the second bounce is barely outside the table – and Alex again steps all the way around so he's standing outside his own backhand sideline . . . and forehands it into the net.  
In game two, Alex leads 7-3. At 8-7, he calls a timeout. Then it's 9-all. Jimmy misses a forehand, but deuces it with a net dribbler, 10-all. Then, surprisingly, the super-consistent Jimmy misses two straight backhands, and Alex wins game two, 12-10.  
In game three, at 3-4, Alex gets two straight points on an edge and net (3-6) . . . and then Jimmy gets a net winner, making it 4-6. Then it's 4-7, 5-7 (and I notice here that Jimmy is breathing heavily, out of breath – these rallies are intensely physical), 6-7, 6-9, 7-9, 7-11 as Alex goes up 2-1 in games.  
In the fourth, Jimmy goes up 5-2, 7-5, 7-6, 8-6, and calls a timeout. He both wants to rest, but also wants tournament director Steve Claflin to do something about one of the doors to the playing hall, which people keep coming in and out of. It's loud and creaky. Normally that wouldn't be a problem, with lots of matches going on, but when there's only one match being played – as in this match – you can hear everything, and when the door opens its like thunder. They put up a barrier to stop people from using it. Jimmy then goes up 10-6. Alex gets a net, Jimmy serve and misses a forehand, and then Jimmy hits two forehands in a row into the net, and it's 10-all, and Alex is two points away from winning. (Jimmy's shown some irritation at the net – both net balls against him, but also his own shots hitting the top of the net and going off.)  
They have a long rally, and Alex forces a forehand and misses, 11-10 Jimmy. Then comes the "what if" point. It's a great rally, one of the longest, and Jimmy is forced off the table. He chops one a little high, and A smashes . . . off. Game to Jimmy, 12-10. If Alex makes that shot, it's deuce, and mathematically speaking, he's got a 50-50 chance of winning that game, and a 50-50 chance of winning the fifth – so he's a 3-1 favorite. He misses, and it's all down to game five.  
But if you blinked, you missed it. In the fifth, Jimmy wins the first point, loses the second . . . and wins 11-1. At this point, he's just worn Alex down with his steady two-winged counter-hitting. Match to Jimmy Butler, 9,-10,-7,10,1.  
Afterwards, Alex told me, "I just started playing hardbat. He's very experienced. I tried to attack with my forehand, which is better than my backhand, and into his forehand since he has such a strong backhand." 
Final: Jimmy Butler (USA) vs. Alexander "The Flash" Flemming (GER) 
The Flash has shown flashes of brilliance, but he's also struggled now and then, allowing opponents to challenge him for games, and had to go deuce twice with AJ. (He hasn't lost any yet.) But he's more of a sandpaper expert, and one more reminder – Jimmy hasn't lost a hardbat match in 23 years. So, what are the odds? I think most people were split on what was going to happen. What did happen surprised many of us.  
The Flash explained it himself afterwards: "The tough semifinal with A.J. warmed me up." He continued, "I'm probably a little fitter. I did a lot of change of pace." That, of course, is one of Jimmy's big weapons, and it's rare that he faces someone who can do it as well or better. 
Jimmy also had something to say afterwards: "I'm glad I got to play him so I could experience his level. He's a full-time professional. He trains full-time and he's in the German League. If he plays poorly and I play my best, I have a chance. If we play ten times, maybe I can win one or two."  
So, what actually happened? The points are often incredible, but for once, Jimmy's playing someone who is as consistent or more so than he is, who can match him backhand-for-backhand (both at the table and a few steps off), and with a vicious attack from both wings. Jimmy starts the match off with a spectacular backhand kill and makes it to 7-8. They then have the point of the year – counter-smashing, chopping, drop shots, flips, back to counter-smashing, and so on. Point to The Flash, won wins the last three to win game one, 11-7.  
In the second, The Flash goes up 4-1, loses four in a row (4-5), wins four in a row (8-5), then at 8-6, wins three in a row to win, 11-6.  
Now we get to game three. Let's just say that, up 10-0, The Flash plays two exhibition lobbing points (10-2), and they finish with a pure backhand-to-backhand exhibition duel that was won by The Flash, who wins the final, 7,6,2. Both were laughing and joking by the end of the last game and afterwards. At this point we've all seen just how good The Flash is when he's pushed to play his best – and Jimmy might have AJ to blame for that. It's $3000 to The Flash, $1500 to Jimmy.  
There are few, if any, weaknesses in The Flash's game once he gets going – he's equally consistent, aggressive, and point-ending on both forehand and backhand. If there is a weakness, perhaps it is that his serves are rather simple and easy to read – probably from his sandpaper play, where you can't really put spin on the ball. (You can with hardbat.) He also has a tendency to back up on this backhand – and yet, he plays his backhand strongly and consistently from there, so even Jimmy, with his world-class backhand, was unable to get through him there.  
And so Jimmy's 23-year hardbat reign has come to an end – but it took a World Champion player from Germany to do so. And Alexander "The Flash" Flemming? He's no flash in the pan; he's now both the World Ping-Pong (sandpaper) and Hardbat World Champion.  
Here are highlights (3:05) that Jimmy put up of his matches with Alexandru Cazacu and The Flash.  
That night about 30 of us attended the tournament party at Director Steve Claflin's house. There was much hardbat talk and much alcohol was drunk (Bryce and I were two of the few abstainers). There are already big plans for next year's Classic Hardbat World Championships. See you then!!! 
___________
Stay "In The Loop" with Butterfly professional table tennis equipment, table tennis news, table tennis technology, tournament results, and We Are Butterfly players, coaches, clubs and more.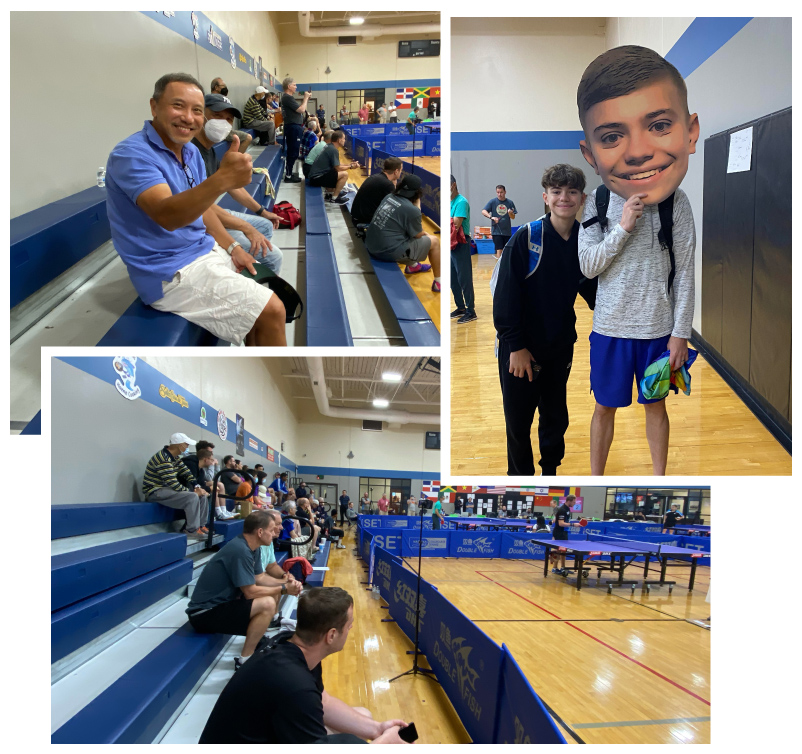 Share the post "Classic Hardbat World Championships: Open Singles"