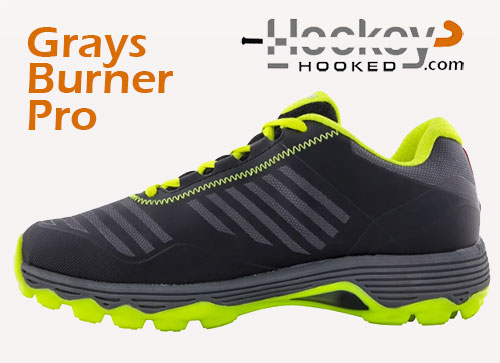 Grays Burner Pro: Grays describe the Burner Pro as an all surface hockey shoe. The stud (cleats) design make it best suited to water based turf. The IXP5 waterproof treatment of the Burner Pro offers great protection from rain and wet surfaces so that players won't have wet and weighed down feet. The god news is your feet won't get wet from sweat either thanks to the GR-TEX UPPER. Designed for speed and performance the lightweight breathable GR-TEX upper with seamless G0RSE Mesh windows allows for breathability.
The raised, reinforced heel and toe offers protection from high speed hockey balls. The S.H.F (SUPERIOR HEEL FIT) built in TPU counter offers  a secure and stable fit, reducing 'lateral movement in the heel area', combined with 'ultra-soft memory foam for a unique fit'.
Softer feel TPU cleats make significant weight saving and 'provide outstanding purchase' on the synthetic surfaces. While their best performance is undoubtedly on synthetic turf, they are usable indoors. For long term play indoors flatter soles would be better advised. All said Grays burner Pros are elite field hockey shoes from the elite field hockey equipment manufacturer. Expect to pay approximately $150, 120 GBP, $220 AUD. Amazon was the cheapest seller place we found.