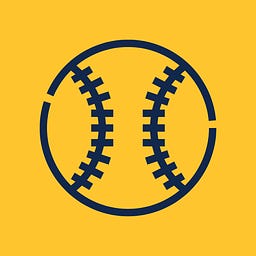 George Brett became a star in 1976.
The third baseman for the Kansas City Royals had already enjoyed a pair of solid seasons, but he soared to a different level in the bicentennial year. He posted a .333 average, edging teammate Hal McRae for the American League batting title.
Brett maintained that level of performance for half a decade, hitting a collective .330 from 1976 through 1980. He capped this impressive run with a stratospheric average of .390 in the final year.
And that's why Brett ranked as the AL's best batter for the 1976-1980 period in the latest iteration of my Five-Year Test, which analyzed contemporary hitters in six key statistical categories.
Brett's counterpart in the National League was left fielder George Foster of the Cincinnati Reds, who led the NL in home runs two times and runs batted in three times between 1976 and 1980.
Today's rankings continue my series of five-year breakdowns of Modern Era hitters, which began with the 1961-1965 standings and will continue up to 2016-2020. Each successive half-decade is covered on the subsequent Friday.
The runners-up for the 1976-1980 period were Jim Rice and Reggie Jackson in the American League, Mike Schmidt and Dave Parker in the National. Scroll below to see my lists of the top 20 batters in each league.
These rankings cover every batter who crossed the minimum threshold of two plate appearances per game, the equivalent of 1,620 appearances in five 162-game seasons.
A total of 102 batters in the American League and 91 in the National League qualified for the 1976-1980 application of my Five-Year Test, which ranks hitters in these categories:
Batting average

Slugging average

Runs scored per 500 plate appearances

Runs batted in per 500 plate appearances

Wins above replacement (WAR) per 500 plate appearances
Each batter below is followed by a breakdown of his 1976-1980 statistics: games, hits, home runs, batting average, and bases per out. The first three stats were not part of the Five-Year Test, though they offer plenty of food for thought (and comparison).
This series will continue next Friday (July 15) with my rankings of batters in both leagues during the span of 1981-1985. You can see the previous standings through these links:
A new installment will arrive in your email each Tuesday and Friday morning
1. George Brett, G 697, H 928, HR 85, BA .330, BPO .934
2. Jim Rice, G 758, H 932, HR 173, BA .308, BPO .901
3. Reggie Jackson, G 693, H 720, HR 156, BA .287, BPO .942
4. Rod Carew, G 717, H 936, HR 34, BA .342, BPO .921
5. Fred Lynn, G 668, H 751, HR 101, BA .301, BPO .896
6. Larry Hisle, G 481, H 518, HR 85, BA .287, BPO .856
7. Cecil Cooper, G 693, H 848, HR 97, BA .313, BPO .811
8. Ben Oglivie, G 670, H 672, HR 124, BA .288, BPO .845
9. Al Oliver, G 432, H 538, HR 45, BA .322, BPO .790
10. Ken Singleton, G 770, H 819, HR 116, BA .299, BPO .904
11. Willie Wilson, G 467, H 470, HR 9, BA .307, BPO .833
12. Andre Thornton, G 419, H 367, HR 87, BA .252, BPO .887
13. Carlton Fisk, G 665, H 680, HR 91, BA .284, BPO .817
14. Eddie Murray, G 638, H 712, HR 111, BA .291, BPO .808
15. Lyman Bostock, G 428, H 520, HR 23, BA .318, BPO .770
16. Bobby Bonds, G 559, H 555, HR 103, BA .268, BPO .863
17. Hal McRae, G 692, H 794, HR 69, BA .297, BPO .818
18. Amos Otis, G 694, H 699, HR 85, BA .277, BPO .828
19. Ron LeFlore, G 592, H 762, HR 41, BA .310, BPO .832
20. Steve Kemp, G 579, H 608, HR 80, BA .285, BPO .822
1. George Foster, G 725, H 816, HR 176, BA .297, BPO .932
2. Mike Schmidt, G 769, H 725, HR 190, BA .266, BPO 1.006
3. Dave Parker, G 742, H 923, HR 106, BA .319, BPO .895
4. Reggie Smith, G 548, H 546, HR 104, BA .291, BPO .942
5. Dave Winfield, G 773, H 827, HR 116, BA .290, BPO .863
6. Keith Hernandez, G 769, H 810, HR 60, BA .302, BPO .855
7. Ted Simmons, G 720, H 748, HR 95, BA .297, BPO .851
8. Ken Griffey Sr., G 701, H 832, HR 49, BA .310, BPO .840
9. Joe Morgan, G 694, H 626, HR 82, BA .269, BPO .969
10. Willie Stargell, G 495, H 448, HR 104, BA .275, BPO .891
11. Steve Garvey, G 811, H 998, HR 121, BA .310, BPO .774
12. Jack Clark, G 588, H 576, HR 88, BA .278, BPO .833
13. George Hendrick, G 580, H 626, HR 84, BA .298, BPO .795
14. Dave Kingman, G 582, H 526, HR 151, BA .258, BPO .817
15. Jose Cruz, G 760, H 830, HR 51, BA .301, BPO .841
16. Greg Luzinski, G 696, H 674, HR 132, BA .275, BPO .889
17. Cesar Cedeno, G 610, H 650, HR 55, BA .287, BPO .857
18. Johnny Bench, G 641, H 565, HR 116, BA .260, BPO .815
19. Ellis Valentine, G 604, H 648, HR 91, BA .289, BPO .763
20. Bake McBride, G 610, H 679, HR 49, BA .298, BPO .771