Badminton med to nuværende beboere, én tidligere beboer og én pædagogstuderende.
Hver mandag i Den Store Hal og hver torsdag i Eskilstrup hallen.
For 5-6 år siden, da vi begyndte på badminton på min arbejdsplads, et lille privat botilbud på Falster, startede vi i en lille, helt traditionel skolehal med kun én bane, meget lavt loft, bomme til at hejse ned, ribber langs alle vægge og glas hele vejen rundt langs loftet.
Efter et lille års tid flyttede vi til Den Store Hal to gange om uge og jeg introducerede "engelsk". Siden har vi spillet det hver gang.
Når vi er minimum fire, spiller vi ca 75-90 minutter. I dag er vi fem, og pt sidder jeg over. Jeg spiller jo rigeligt i forvejen. Af og til er vi tre og sjældent kun to.
De/vi får pulsen op, hvilket jo er vigtigt for sundheden, og især vigtigt for denne målgruppe med tendens til inaktivitet qua diagnose og overvægt.
Men lige så vigtigt, og nok årsagen til at vi har kunnet fastholde badminton på ugeprogrammet – det er sjovt, hyggeligt og en god tur ud af huset.
Vi griner, konkurrerer, klæder om sammen. Vi snakker om Tottenham, bygningen af den nye Storstrømsbro og alt muligt andet. Nogle gange om personlige ting.
Det er vores fælles frirum. Vi er meget lige her. 4-5 personer i sportstøj. Beboerne bader ikke, men det gør jeg. De ser mig nøgen, hvilket jo stadig er helt naturligt i de her rammer, i hvert fald for min generation.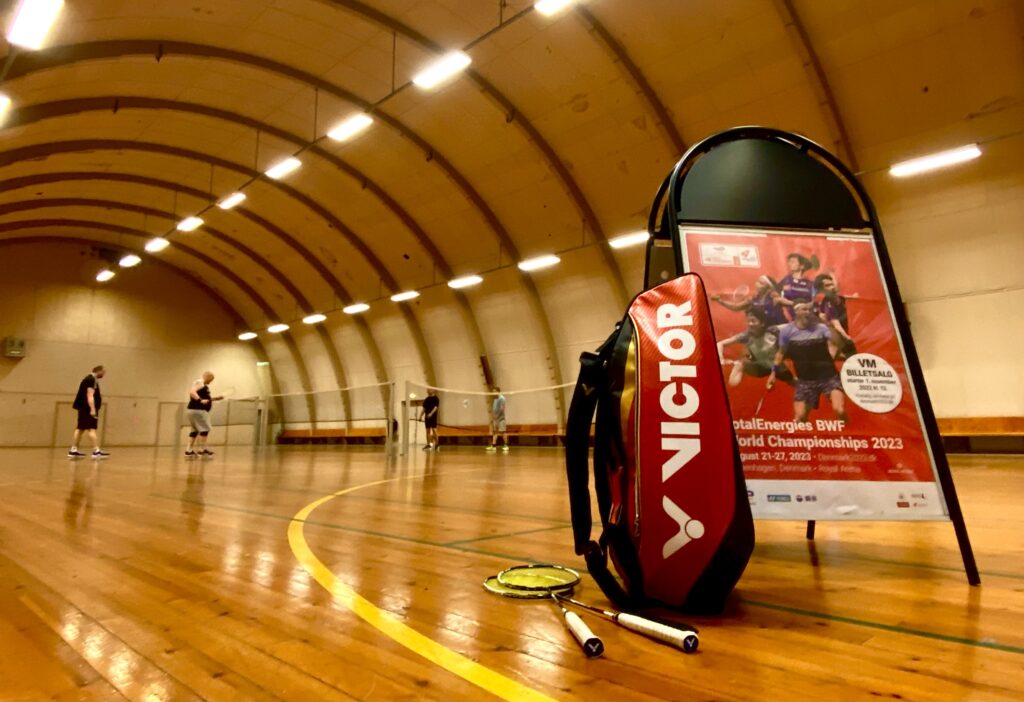 Badmintonbladet 😉 Per Damkjær Juhl