24 May, 2023
Badminton England have been presented the White Cross of Honour by the Ukrainian Badminton Federation for efforts to support Ukrainian badminton players.
The medal is awarded by the Verkhovna Rada (Ukrainian Parliament) to foreigners who have actively helped Ukraine during the ongoing conflict in the country, which started in February 2022.
Since the beginning of the conflict Badminton England have been involved in the running and support of multiple schemes, including Badminton Homes for Ukraine and providing support to elite badminton players from the country.
Badminton Homes for Ukraine helped families from the badminton community in Ukraine with hosts from the badminton community in England.
This was a nationwide extension on an initial campaign from Suffolk badminton coach – and Badminton England Volunteer of the Year 2023 – Helen Thornton, who was a nominee for the Unsung Hero award at Sports Personality of the Year in recognition of her work on the initiative.
Badminton England has also been working with the Ukrainian Badminton Federation to support elite Ukrainian players, including offering players the chance to train and stay at the National Badminton Centre in Milton Keynes.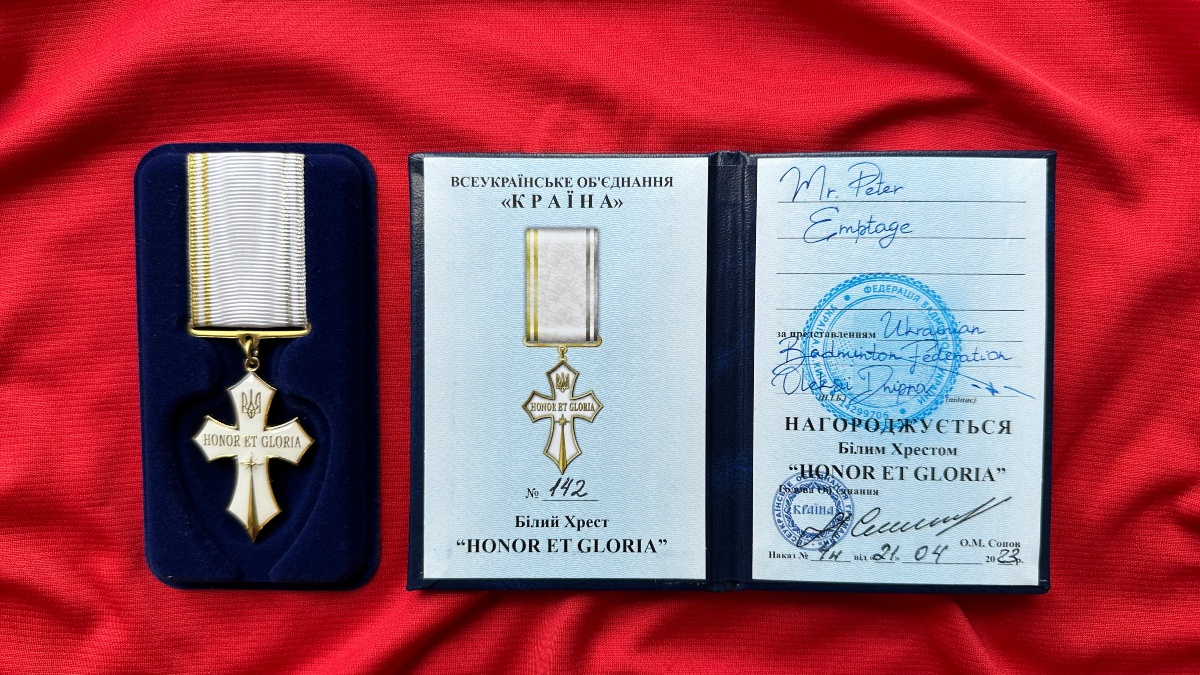 Secretary General of the Ukrainian Badminton Federation Olesia Nikolenko presented the White Cross of Honour to Badminton England Chief Executive Sue Storey and Badminton England Board Director Peter Emptage, the medal certificate signed by Ukranian Badminton Federation President Oleksii Dniprov.
Storey said: "Peter Emptage and I were so overwhelmed to receive this honour on behalf of everyone in the badminton community who has helped and supported our friends from Ukraine badminton.
"We stand united as a badminton community on this issue and are delighted to have been able to step up and help the wider badminton community from Ukraine in recent times.
"We are very pleased that the support of the badminton community in England has helped in some small way. We thank you on behalf of everyone involved for this recognition, we are very proud to have been awarded the White Cross of Honour."