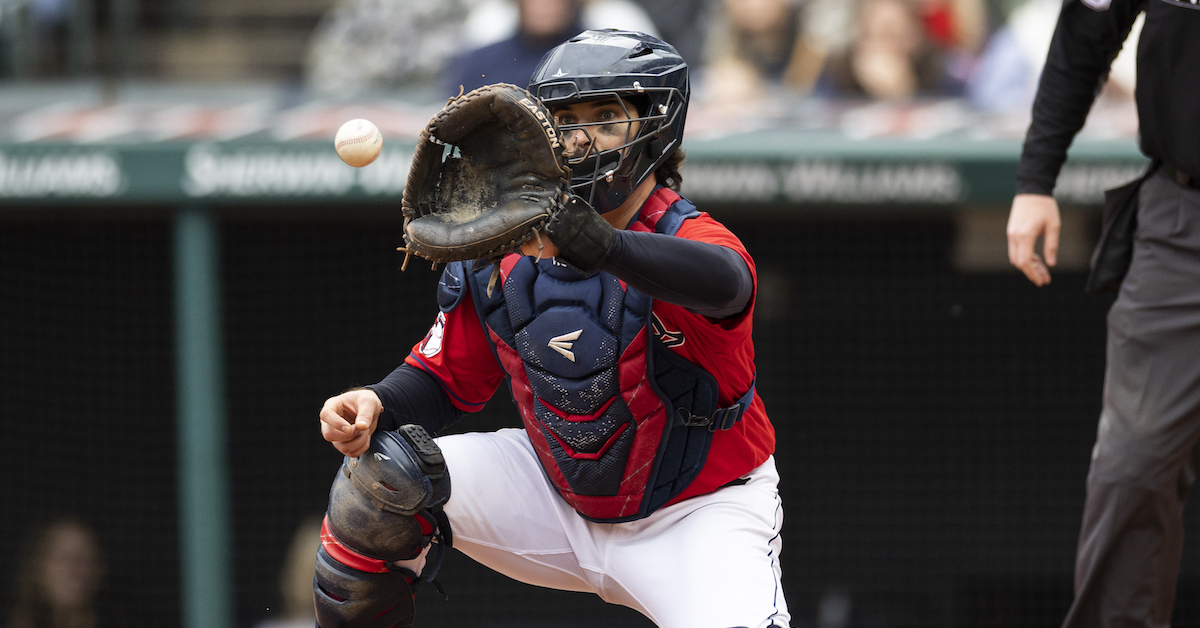 Austin Hedges is Cleveland's primary catcher because of his defensive value. That's no secret: The 32-year-old backstop has long been a well below-average hitter — his career wRC+ is a woeful 54 — but when it comes to working with a pitching staff, few do it better. Under his and backup Luke Maile's guidance, the Guardians rank third in the American League in pitcher WAR and fourth in ERA. It's fair to say that pitching is the postseason-bound club's greatest strength.
Hedges fielded questions about his time behind the plate in Cleveland prior to a recent game.
———
David Laurila: Who has been the easiest guy on the team to catch, the pitcher for whom you're kind of just sitting back there on a rocking chair?
Austin Hedges: "Our whole team does a really nice job of staying consistent with all of their pitches, which has made my job really easy. One of the guys in the bullpen that is surprisingly easy to work with — a pitcher with really good stuff — is Enyel De Los Santos. He doesn't get the credit that a lot of the big dogs in our bullpen do, but he's been a workhorse for us. He's gotten big outs in leverage situations. He's so consistent with all of his pitches that I always know what I'm going to get."
Laurila: Can predictable movement ever be a negative?
Hedges: "No. I think it's only a positive, because if you know what you're going to get, you know what adjustment the pitcher needs to make if he makes a bad pitch. For instance, if he throws it for a strike in a situation where maybe it should be a ball — say we're ahead in the count — you can just tell him, 'Hey, that was a good slider, but it was in the zone and I need that one to be out of the zone.' Or, the opposite. If we're behind in the count and throw a chase breaking ball, we need to get it in the zone. For a guy that's consistent with the break of the pitch, doing that is an easier adjustment."
Laurila: What is De Los Santos's best pitch?
Hedges: "His fastball is his best pitch, but his changeup and his slider have become real weapons this year. He's got one of those special fastballs where, regardless of whether it's 94 or 96 [mph], guys just can't seem to get on time for it very easily. There is some sort of deception. I think there is some type of approach angle where it stays flat, and a lot of times those flat, kind of riding pitches can be tougher for guys to hit."
Laurila: Who has the best raw stuff?
Hedges: "The top of our rotation is Shane [Bieber] and Triston [McKenzie], and those two have some of the best stuff I've ever caught. All of their pitches, really, but Shane specifically with the spinning pitches — his cutter/slider/curveball combo is about as good as it gets in baseball. With Triston, it's fastball/curveball/slider. The curveball is developing into one of the best in the game, and he has arguably the best fastball in the game."
Laurila: What makes McKenzie's fastball so good?
Hedges: "The pitch characteristics. He has elite ride, elite extension, and whatever angle he's throwing from, with how tall and how long he is, when he's throwing 93-94 we can essentially add five or six miles per hour with the perceived velocity."
Laurila: Bieber is known more for having elite pitchability than he is for any kind of "Wow!" factor.
Hedges: "The breaking stuff is "Wow!" type stuff. You don't strike out as many guys as he does without having "Wow!" type stuff. When he goes out there and his slider and curveball are both working, and he has fastball command… I mean, the guy can go out there and punch out 12-15 guys with the best of them."
Laurila: Who on the staff has the most unique pitch?
Hedges: "The most unique pitch in all of baseball is [Emmanuel] Clase's fastball. When you can throw a pitch at 98 to 102 with that much movement, with that much cut… and there's the command, too. He throws it to both sides of the plate with elite command, as well as movement and velocity. It's one of those unique pitches where you could tell the hitter what's coming and he's still going to have a hard time hitting it. Clase is really good. Most of our guys are really good."