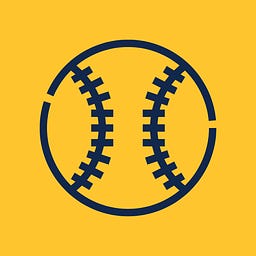 On to the postseason.
Recent installments of this newsletter were devoted to my forecasts for the 2023 regular season. I used an unusual prediction system that focused on history. I matched each club's record over the span of 2020-2022 against the corresponding three-year marks for every team since the advent of free agency in 1976.
It's my contention that franchises tend to follow similar patterns on the upgrade or the downswing, no matter what changes they might make over the offseason. So I pinpointed the closest matches from past years for each current club, then checked the subsequent records of those teams.
You can follow these links to review the resulting predictions for the six divisions:
Now it's time to simulate October's playoff action. I'll run each series 1,000 times, based on the regular-season team scores (TS) envisioned by my computer. The team that wins the majority of my simulations will advance to the next round.
TS, as you know, is plotted on a 100-point scale. It's determined by a formula that gives equal weight to four factors: winning percentage, the differential between runs scored and allowed per game, the differential between bases per out (BPO) attained by batters and allowed by pitchers, and postseason success.
The two top-rated teams in each league — the 1 and 2 seeds — get byes in the wild-card round of the playoffs. They subsequently play the two wild-card winners in a pair of division series, followed by the league's championship series. The winner, of course, heads on to the World Series.
Here we go with the 2023 American League playoffs, as outlined below. The National League will come on Friday.
A new installment will arrive in your email each Tuesday and Friday morning
Matchup: Cleveland Guardians (3 seed, first place in AL Central, TS 49.663) vs. Seattle Mariners (6 seed, second place in AL West, TS 49.850)

Wins in 1,000 simulated series: Mariners 519, Guardians 481

Bottom line: Don't let the seeding disparity fool you. Cleveland and Seattle are about as closely matched as any two teams could be. The computer likes the Mariners to prevail in a tightly fought series.
Matchup: Tampa Bay Rays (4 seed, second place in AL East, TS 53.969) vs. New York Yankees (5 seed, third place in AL East, TS 57.265)

Wins in 1,000 simulated series: Rays 507, Yankees 493

Bottom line: My regular-season forecast gave a slight edge to Tampa Bay. But don't forget that New York finished 13 games ahead of the Rays last year — or that the Yanks have a higher projected TS this year. Look for Tampa Bay to barely escape with a series victory.
A complete rundown of 2022 stats — and a look ahead at the season to come
Matchup: Houston Astros (1 seed, first place in AL West, TS 64.358) vs. Seattle Mariners (ALWCS #1)

Wins in 1,000 simulated series: Astros 547, Mariners 453

Bottom line: These two clubs may be in the same division, but they're not in the same class. Houston finished 16 games ahead of Seattle in the AL West last year, and will probably do something similar this season. Look for the Astros to move on to the ALCS.
Matchup: Toronto Blue Jays (2 seed, first place in AL East, TS 56.457) vs. Tampa Bay Rays (ALWCS #2)

Wins in 1,000 simulated series: Blue Jays 540, Rays 460

Bottom line: It might seem that Tampa Bay and Toronto would be closely matched, but the simulation begs to differ. The Blue Jays emerge with a surprisingly emphatic triumph over the Rays, setting up a Houston-Toronto ALCS.
Read about the Hall of Fame's checkered history (and uncertain future)
Matchup: Houston Astros (ALDS #1) vs. Toronto Blue Jays (ALDS #2)

Wins in 1,000 simulated series: Astros 532, Blue Jays 468

Bottom line: This is getting a bit dull, isn't it? Houston qualifies for its seventh straight ALCS. Most fans will jump on Toronto's bandwagon, hoping to see somebody new make it to the World Series. But no, the computer envisions the Astros heading to the final round again. Who will they face? We'll find out on Friday.