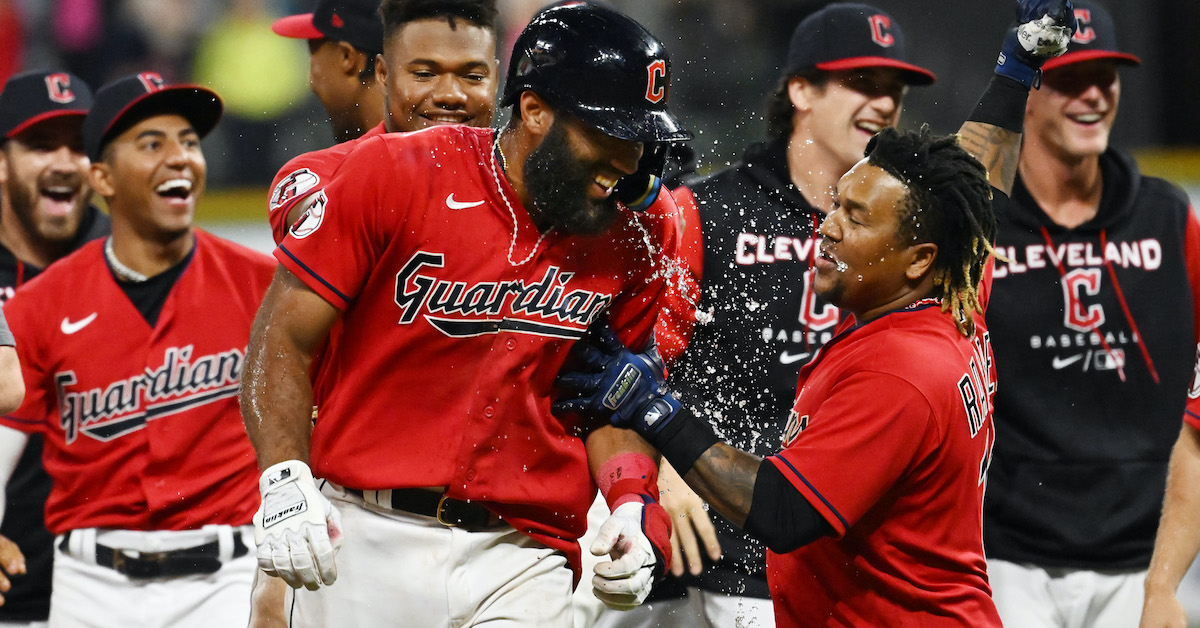 What does it mean that a team is 55% likely to make the playoffs, or 45% likely? It sounds like it means it'll be right on the cusp of the playoffs at year's end — the kind of team that spends the last week of the year either sighing in relief at a narrow escape or ruing a few one-run losses that did it in.
Sure, that's definitely true sometimes. Often, though, the numbers don't work out quite so suspensefully. Sometimes, your 50% chance decays to zero or climbs to a near certainty far before any dramatic ending. For proof of this, look no further than the race for the AL Central, which went from toss-up to fait accompli over the first half of September.
On September 4, the Guardians had just finished getting their clocks cleaned by fellow AL playoff hopefuls. Over a ten-game span — seven against Seattle, three against Baltimore — they went 2–8, dropping their record to 68–64. In that same span, the Twins had gone 6–3, raising their record to an identical 68–64. Our playoff odds gave the Guardians the better chance at winning the AL Central, but it was close: 43% for Cleveland, 39% for Minnesota.
That's about as close as you can get — identical records, near-identical chances of winning the division, and only one other team in the rear-view mirror (the White Sox, who were two games back, though scuffling somewhat at 4–6 in their last ten games). The stage was set for a duel to the finish, with Minnesota and Cleveland facing each other eight times in September. For added spice, the White Sox had four games against the Guardians and six against the Twins.
According to our projections, the Guardians and Twins are roughly equally talented, with the White Sox a hair better (though they've underperformed their projections all year long). Play those eight games out a million times, in a million possible futures, and they'd presumably average a 4–4 split. In their previous 11 meetings, they'd split nearly evenly; Cleveland had a 6–5 edge, but the Twins had a 16-run edge in aggregate scoring. Not that head-to-head matchups mean much predictively, but these two teams seemed like perfect foils.
The Guardians have gone 6–1 in the first seven games of these last eight fateful clashes. They now lead Minnesota by six games; in the games where they haven't played each other, they've played at roughly the same clip. But the head-to-head dominance swung the division race completely. As of this morning, we give the Guardians an 86.3% chance of winning the division. The Twins are all but eliminated, with a 1.2% chance of capturing the crown.
Baseball seasons are immense. You can't encapsulate the 2022 Minnesota Twins or Cleveland Guardians in eight games in September; they will have played 162 of them by the time all is said and done. If the two teams hadn't been so evenly matched in the 127 games they've played against everyone but each other — each team has gone 67–61 against all other opponents — the September confrontation might not have mattered. But it did, and it was decisive, in a way that never feels inevitable in baseball.
What mattered in those fateful seven games that swung the race? The Guardians were able to bring the strength of their team, their superlative bullpen, to bear. It's too simplistic to say that Cleveland's team is about getting to the seventh inning with the lead and then winning from there, because really, that's what every baseball team is about. The Guardians are just better at it than everyone else.
On September 9, which may forever be known as Hairgate, the Twins got to James Karinchak for two runs, but other Guardians relievers — Nick Sandlin, Trevor Stephan, and relief ace Emmanuel Clase — held firm. The next day, Tito Francona's security blanket Bryan Shaw gave up four in the ninth with a six-run lead, but Clase slammed the door. The following game was more of the same: Sam Hentges, Stephan, and Karinchak were flawless to close out another Guardians win.
After two more wins, with Stephan and Karinchak providing scoreless relief work in one and Shane Bieber throwing a gem in the other, the Twins finally got to the Cleveland bullpen, hanging three on Stephan and another run each on Hentges and Karinchak. Just one problem: they simply couldn't get over the finish line. The Guardians won that game, 7–6, in 15 innings, on the back of six excellent innings from the bulk part of the bullpen: Shaw, Eli Morgan, Enyel De Los Santos, and Kirk McCarty. The Twins won the next day, but it was too little, too late.
If it feels like I'm giving short shrift to the Cleveland offense, that's not accidental. The team as a whole has been excellent this month, 11–6 on the whole. The offense has been below average, putting up a .261/.330/.361 batting line in aggregate and scoring 3.5 runs per game. Among the top 40 hitters in baseball per WAR this September, exactly two are Guardians: Oscar Gonzalez and Myles Straw. In fact, the team has been outscored in this stretch, and badly so by non-Twins opponents; the Guardians don't have much firepower, and when they're unlikely to win a given game, Francona isn't afraid to let his lesser pitchers wear one.
For their part, the Twins have been even worse. Carlos Correa has been one of the best hitters in baseball this September, hitting .348/.408/.667 with six homers. Think the Guardians' offense has been punchless this month, though? The Twins are scoring only 3.3 runs per game, even with Correa's outburst and plenty of extra innings to juice scoring. Their starters have faltered, too; it's no coincidence that most of those games I mentioned featured the Guardians jumping out to an early lead and then protecting it.
Is this how baseball works? Not exactly. Your whole season matters; swap these seven head-to-head clashes for seven random games in May or June, and the records would still be the same, but the story would instead be that the Guardians jumped out to an early divisional lead and then protected it. Instead, the shape of the division's playoff odds looks like a muddled mess with sudden clarity: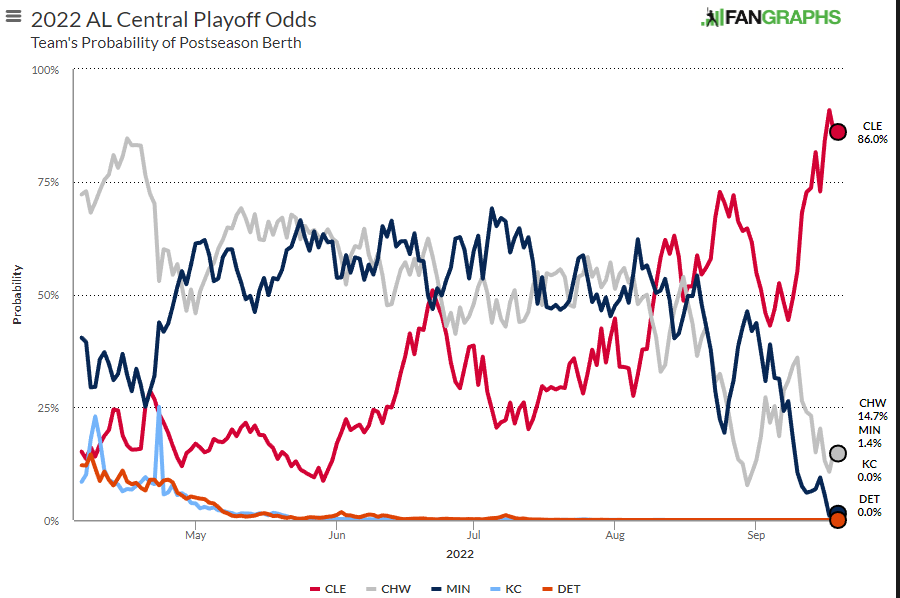 Were these two teams truly equally likely to make the playoffs on September 4? I'd be hard-pressed to believe otherwise. They had the exact same record, after all. Every playoff odds projection system agreed that it was a tossup. It's easy to say in retrospect that the Guardians were constructed better, that they were always going to win these games against the Twins, but that simply isn't the case. The Twins' offense didn't have to fall apart in September; they averaged 4.5 runs per game before their recent swoon. Guardians pitching could have faltered in one or two of those games; it's hard to say that one team was clearly better in a 7–6 game that goes 15 innings, for example. This is just the way the cookie crumbled. Sometimes two evenly matched teams play seven games and one of them wins six. That's just the nature of the sport, though the Twins' front office will surely be combing through the wreckage for any heretofore unseen problems.
Spare a thought, too, for the White Sox, who have done everything they can to get back into the race this month; they're 12–5 and have gone 3–1 against the Guardians and Twins. If Cleveland and Minnesota had split their games more evenly, the Sox would be within a game or two of first in the division. Instead, they'll have to sweep Cleveland in their last series of the season, which starts Tuesday, to level the score. They'll have to win two of three just to stay in the race. But hey, it could happen. Look no further than the divergent September fates that were the subject of this article.